Shows
Rhythm Devils
September 2, 2010 at Northern Lights in Clifton Park' NY
by J Hunter
|
photography by Andrzej Pilarczyk
September 9, 2010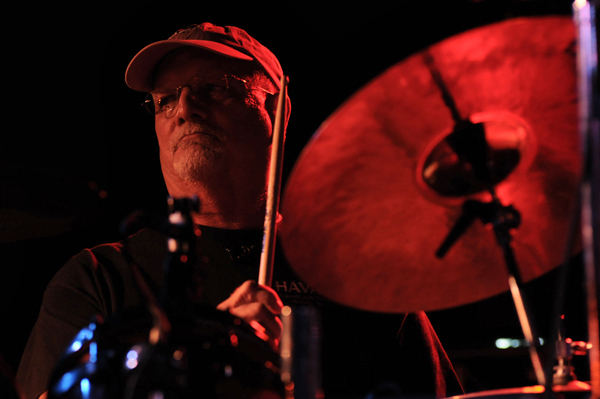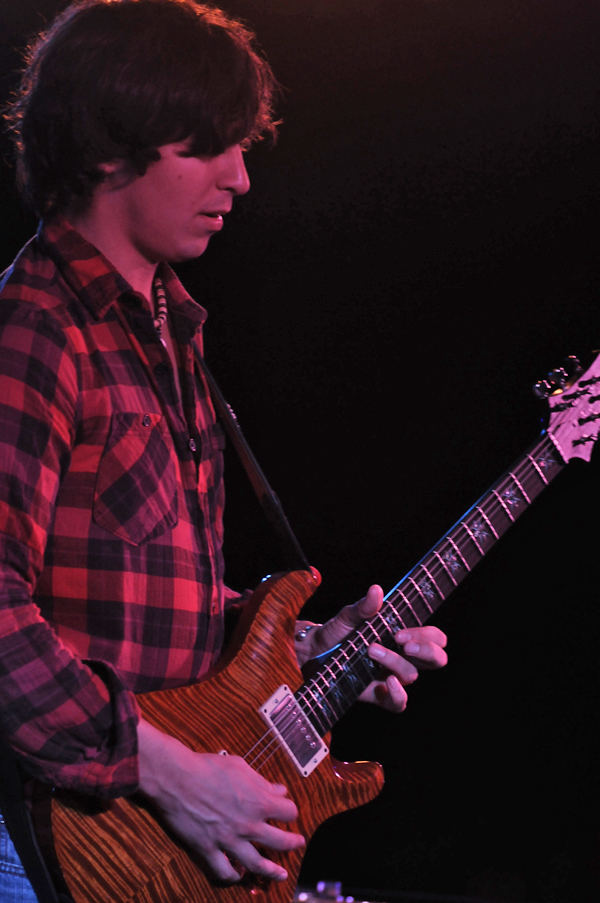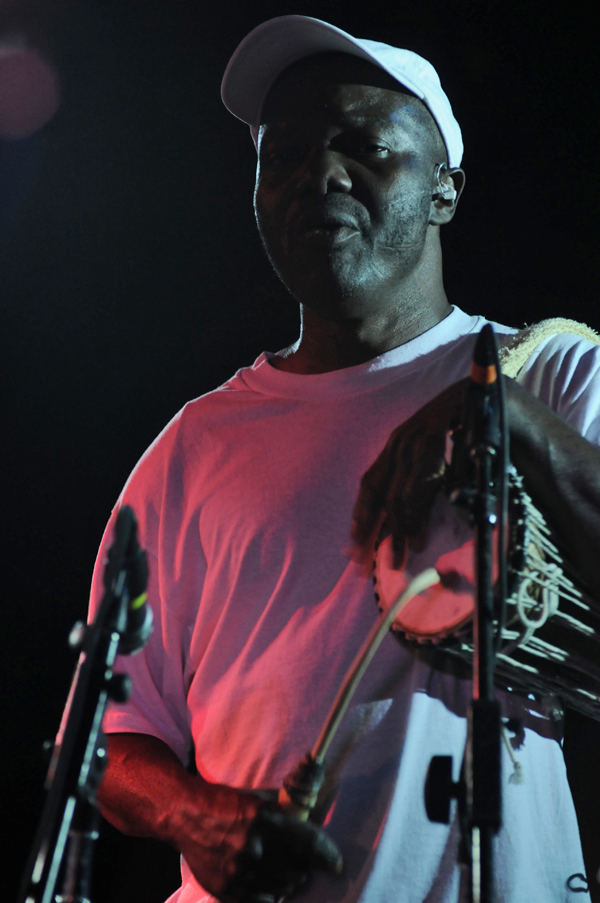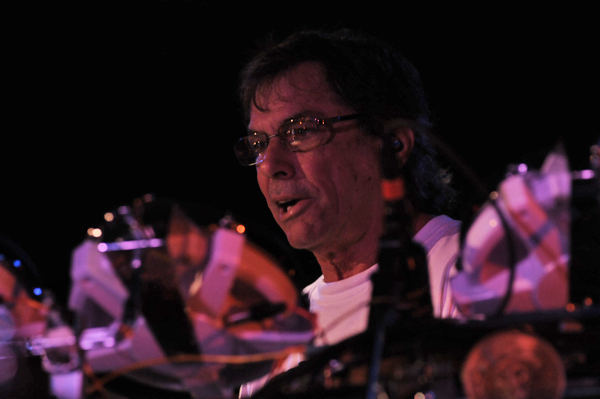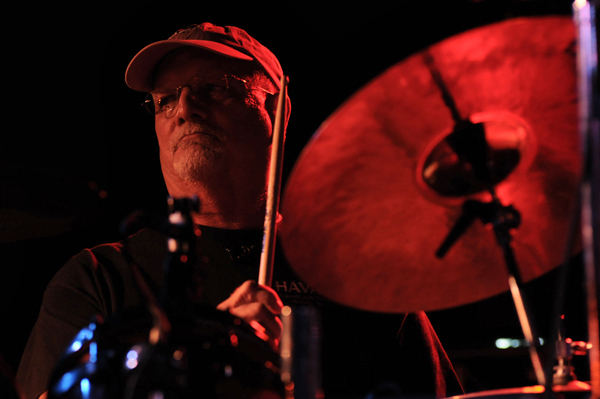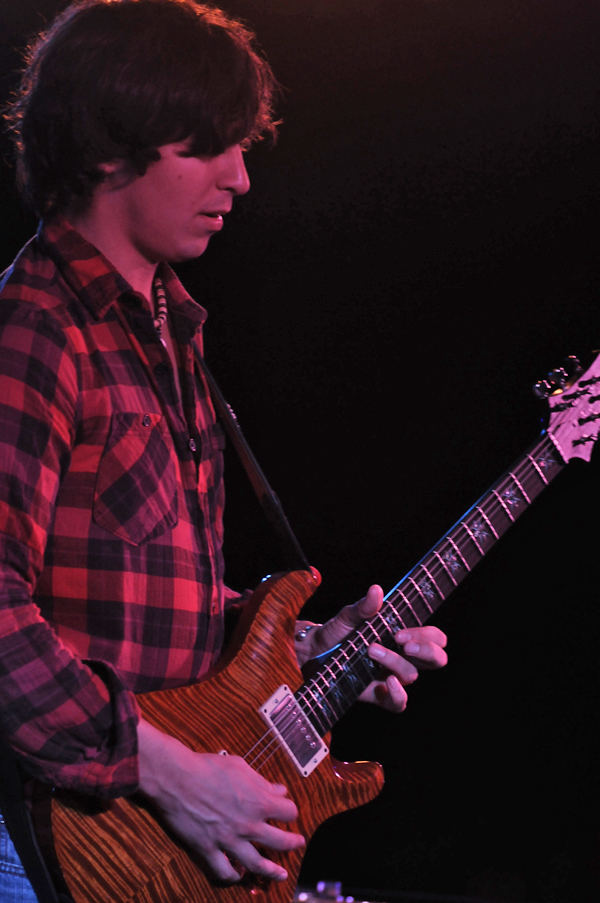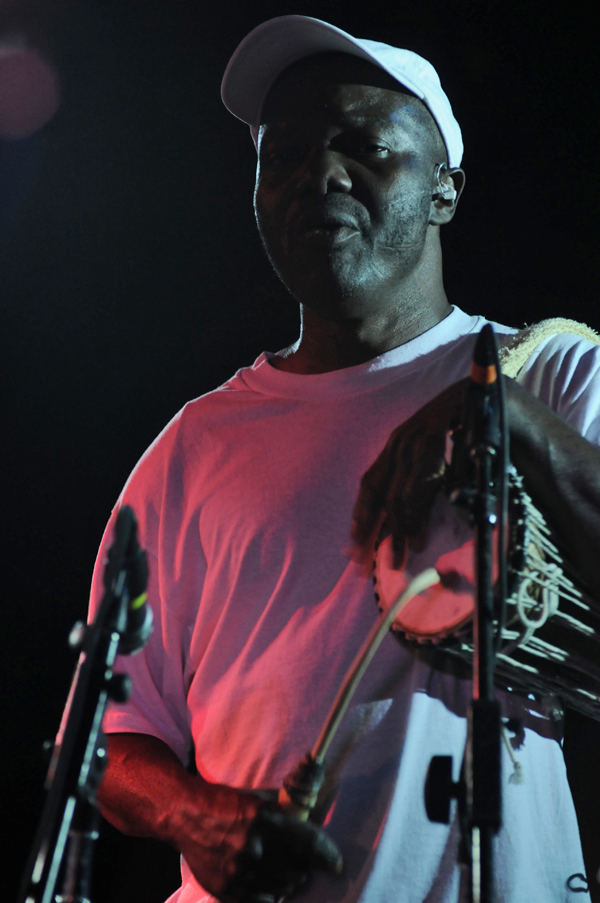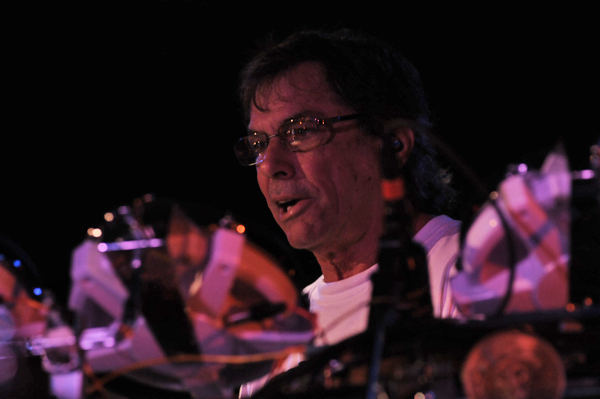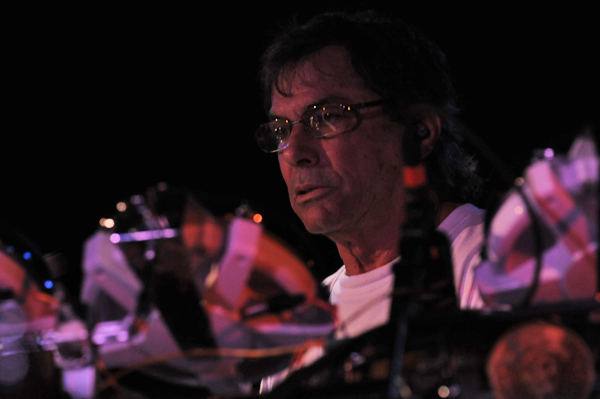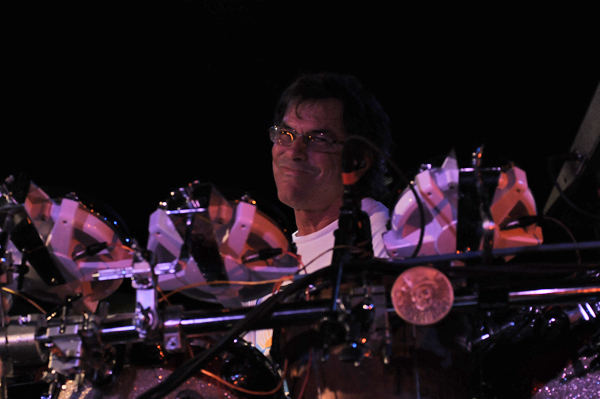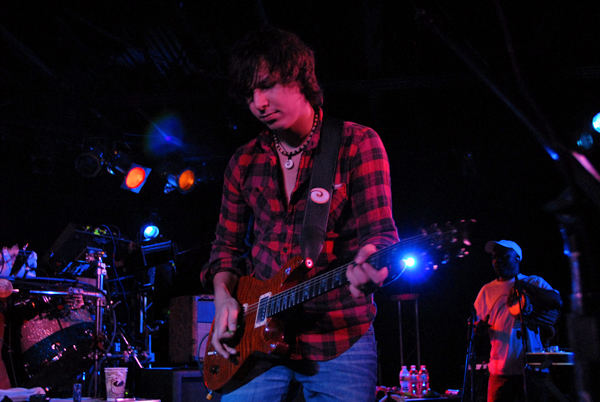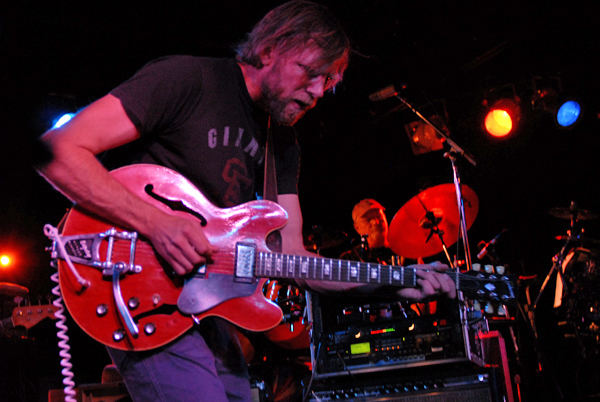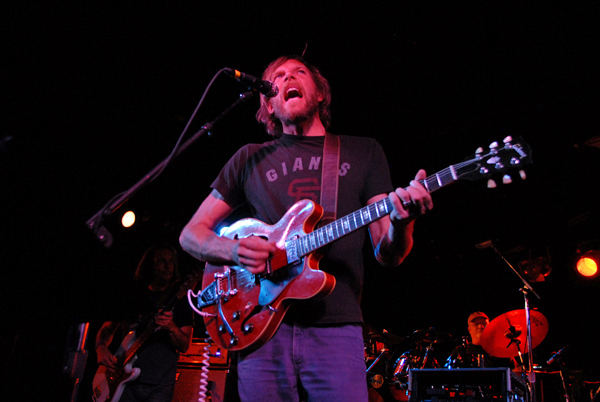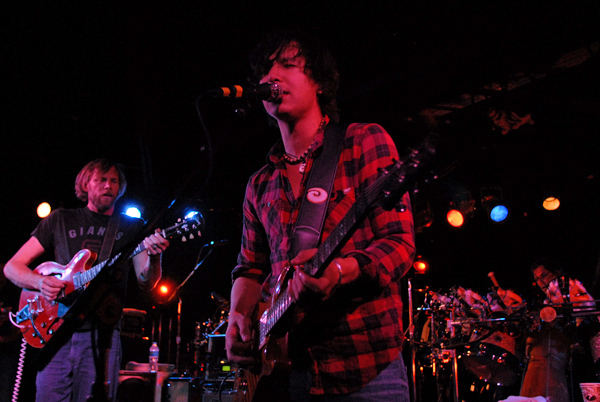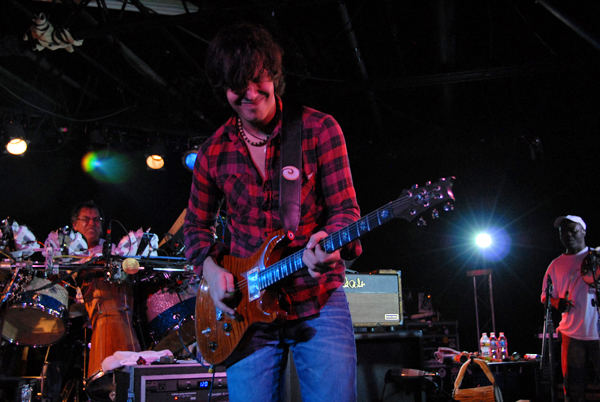 Back in the day' Rhythm Devils was my favorite Grateful Dead side project. The eerie percussion-based soundtrack Mickey Hart and Bill Kreutzmann created for Francis Ford Coppola's Vietnam epic Apocalypse Now was catnip for anyone who wanted their music to go beyond the stratosphere… or who wanted to go beyond the stratosphere themselves. In this modern-day context' "Rhythm Devils" is just the name for another "Greatest Dead Hits" unit; between this outfit' 7 Walkers (Kreutzmann's other musical endeavor)' Ratdog' the Other Ones' the Donna Jean Godchaux Band' and -- of course -- The Dead' that makes six groups doing essentially the same thing. So it's official: Just like Cirque du Soleil and Jersey Boys' the Grateful Dead now has touring companies.
This didn't seem to matter to the 500-plus people who packed into Northern Lights' one of the few real rock clubs left in the Capital Region. The average age of the crowd was 45' but you have to take the outliers into account: An 81-year old grandmother wanted tickets to this show for her birthday' and a proper-looking older woman who wouldn't have looked out-of-place shopping in Saratoga Springs told me' "Mickey Hart's mine. He just doesn't know it yet!" Contrariwise' you had the small army of Phish heads who knew Robert Hunter's lyrics by heart' belting them out with appropriate gusto.
All and sundry went ballistic when Mickey and Billy led their sextet onto the small stage with the big amplifiers. Ted Nugent and Slayer have played Northern Lights' so you know the place has a robust sound system. It's not the Wall of Sound' but then what is? The system's quality was proven out when Hart and Kreutzmann took to their respective (and mammoth) drum kits and let loose with a huge opening riff. From the other end of a sports arena like the old Boston Garden' their relentless attack was truly impressive; in a club this size' it was utterly breathtaking. 45 years later' Mickey and Billy can still conjure rolling thunder.
I quickly went into "Name That Dead Tune" mode' a state we all played in years past. The riff could have been "Samson & Delilah" or "New Minglewood Blues'" both of which Rhythm Devils covered on this tour. However' when guitarists Davey Knowles and Tim Bluhm stepped up to the mics' it turned out the song was the prehistoric rocker "Bo Diddley." Well' at least we know where the Dead got the foundation riff for those other two songs. Either way' it let Knowles and Bluhm introduce themselves while Hart and Kreutzmann "limbered up."
They must have been pretty loose by the time the music stopped' because "Diddley" began a rocking 25-minute medley that included the seafaring love-in-wartime story "Jack-a-Roe" and a superfast rave-up of Sonny Boy Williamson's "Sittin' on Top of The World." For those who've lived with the Reckoning acoustic version of "Jack-a-Roe'" Knowles' hopped-up electric take was a real eye-opener. Knowles' powerful voice could strip bark off a redwood' and he roared out the lyrics without a single sign of intimidation -- Jerry Garcia may have sung them before' but Knowles was singing them now. He applied the same approach to "Loose Lucy'" and the results had everybody saying "Thank you for a real good time!"
Bluhm probably has the toughest job in Rhythm Devils. Besides teaming with Knowles as surrogates for Garcia and Weir' he's also replacing alt-rock megastar Keller Williams' who was in the band for the July portion of the tour. It kind of helps that Bluhm sings and plays slide a little like Jerry' and he sports a younger version of Bobby's current Mountain Man look. To be fair' though' that ignores the fact that both he and Knowles have got some deeply tasty chops. They swapped solid guitar solos all night long' and their harmonies were consistently on point.
If the songs had been nothing but Dead stuff' the show would have passed muster' but the night was also interspersed with tape loop-heavy jam pieces that forced Kreutzmann to wear headphones in order to stay in time; Hart made things even more complex by playing echoing synth lines that upped the weirdness factor but did little to improve the music. The nature of these pieces gave Nigerian "talking drum" player Sikiru Adepoju a chance to show his stuff' but the massive mix rarely gave him a chance to be heard any way other than "Barely." Mickey and Billy get credit for introducing contemporary material into the evening' but they always needed warm chestnuts like "Brown-Eyed Women" and "U.S. Blues" to get things back on track.
I admit I was in there with the rest of the crowd singing "Wave that flag/Wave it wide and high!" (Hey' they don't call it an "anthem" for nothing!) Overall' though' this show left me indifferent. Sure' it was great seeing Hart and Kreutzmann again' and even greater to see they're still the two-headed' four-armed monster that fills every space perfectly while keeping the beat nice and chunky. But even though Knowles and Bluhm gave it all they had and more' I still felt like I was watching a tribute band who'd been lucky enough to talk two members of the original group into sitting in. The bumper stickers that said "There is nothing like a Grateful Dead concert" were right -- been there' did that' literally got the t-shirt! As much as I hate sounding like the purists I regularly use for target practice' all Rhythm Devils did was reinforce that maxim.