Blog

Antibalas re-releases Who Is This America? | Features Bonus Track "Money Talks"
by Mike McKinley
August 17, 2010
I'm excited to share the news that
Antibalas'
2004 record
Who Is This America?
has been re-released today on
Ropeadope
with the Scott Harding produced bonus track "Money Talks." See the full press release below.
The political statement on Who Is This America? is just as bad ass and righteous as the grooves. It was an empowering record in the post-9/11 Bush/Cheney mess. And, unfortunately, we're still in the thick of the aftermath -- it makes this record just as important and urgent as it felt in 2004.
Who Is This America? also sounds as fresh today as it did six years ago, wearing the longevity stamp that all great records have. It's one of favorites of the 2000s, and certainly one of the most relevant to the times. If you missed it the first time around' get on it now.

Oh' I also wore the shit out of the t-shirt too -- it was (is) a beauty. Ropeadope is also re-releasing the "Running Man" T-shirt. Bravo. Mine's still holding up a bit.
Listen to "Big Man" from
Who Is This America?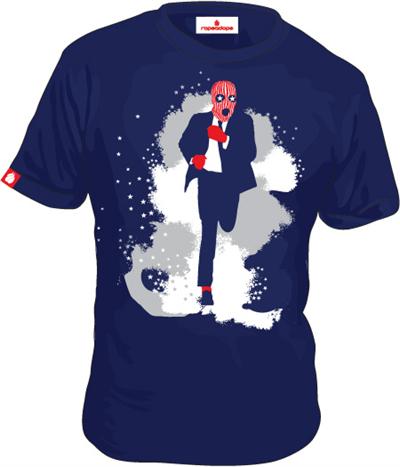 Brooklyn' NY -- Antibalas is set to have their modern day afrobeat classic' Who Is This America?' reissued by Ropeadope on August 17. While it's common for influential recordings to receive reissue treatment decades later or around specific anniversaries' Ropeadope has made the decision to bring back the Brooklyn-based collective's 2004 album just six years from its initial release for one primary reason: "The questions and powerful social statements on the record are as relevant today as they were in 2004. 'Big Man' is a powerful musical essay on consumerism and the system of continued oppression that it supports' while the title track is even more poignant as our nation continues the struggle for its collective identity in the face of a changing world."
The third album to be recorded and released by Antibalas through that point in time' Who Is This America? was conceived in post-September 11th New York City. As George Bush tried (and later succeeded) in holding on to his presidency' Antibalas was fueling the fires of protest with its powerful musical rhetoric. The 17-piece band simultaneously indicted politicians' ignited a musical tsunami and turned a new generation of listeners on to afrobeat for the first time. In a May 2004 review of the seven-track effort' Pitchfork declared: "Who Is This America?' which in the midst of the current trickle-up afrobeat revival' has Antibalas bringing a more galvanized and urgent righteous noise than ever before' and proving they lead the pack when it comes to the re-imagining and recreating of Fela's archetypal art-form."
Who Is This America? will be reissued on CD with a previously unreleased track produced by Scott Harding entitled "Money Talks." The iTunes version of the reissue will include the exclusive cut' "Paz." Additionally' a special limited edition package featuring the CD' the album download and a reprint of the original Ropeadope "Running Man" t-shirt will be sold at both Antibalas' and Ropeadope's websites.