Features
Hippy Fiasco Rides Again: Making Lemonade with Nathan Moore and Chad Galactic
by Julia Marino
|
photography by Julia Marino and Sung Ohm
August 13, 2010
page 1 of 4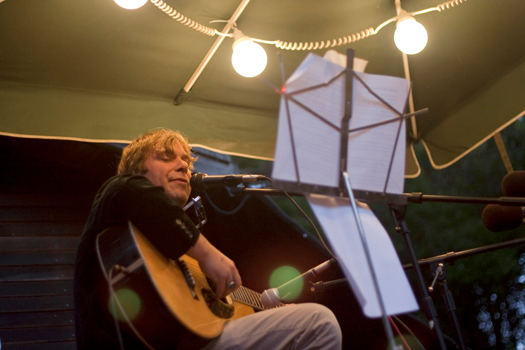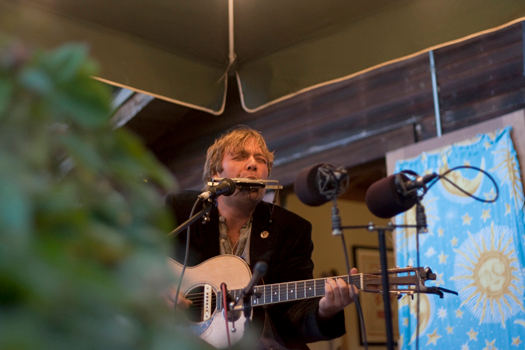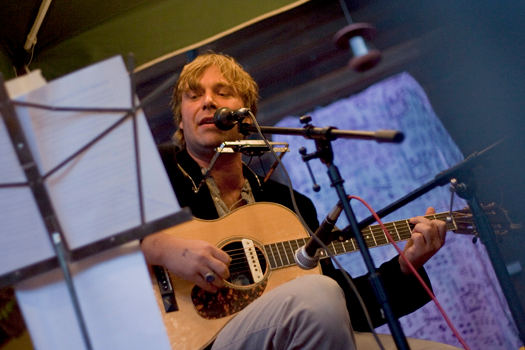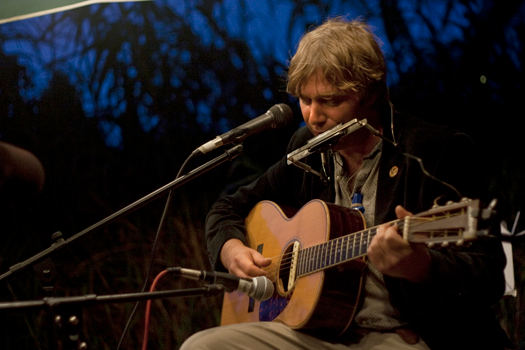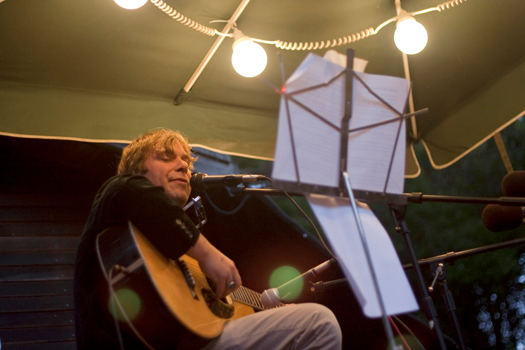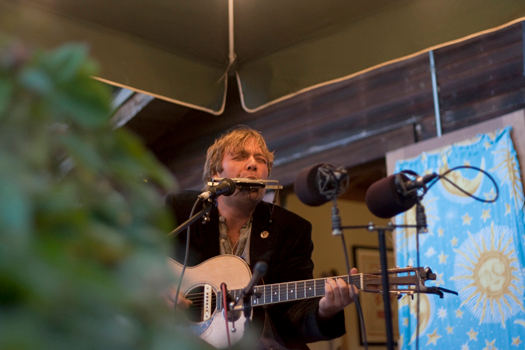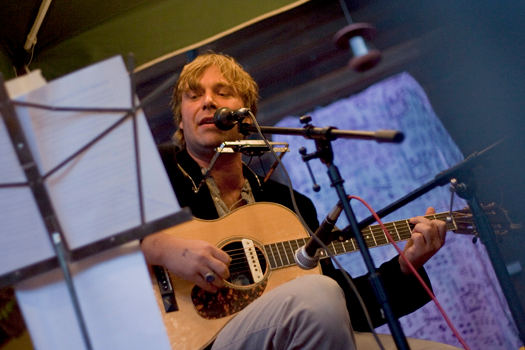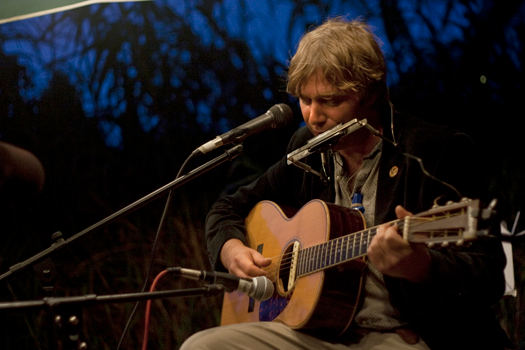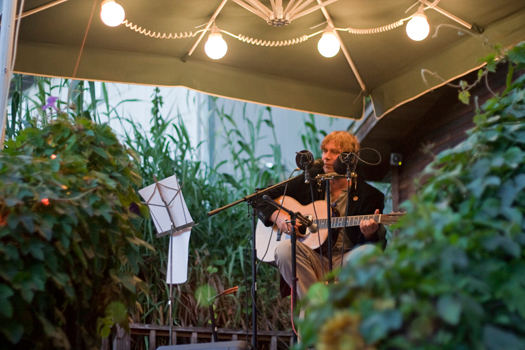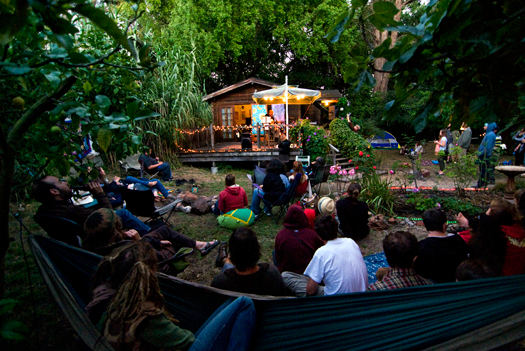 Hippy Fiasco on a boat

Hippy Fiasco on a train
Hippy Fiasco on a bike

Hippy Fiasco on my brain
Hippy Fiasco on a skateboard

Hippy Fiasco in the rain
Hippy Fiasco rides again…

The lyrics instinctively poured out of Nathan Moore's lips while he waited in the Ashville Airport. He sat with his bag full of magic tricks' a kazoo from his recent gig at High Sierra' and a round trip ticket out west he would ultimately not use.
The song was somewhat of a tour foretold' for before Nathan hopped on the plane to fly to a hippy festival in northern California' he already knew he had a fiasco on his hands.

His destination' the Mystic Garden Party' which ran from July 23 - 26th in Manton' CA' promised many playful intrigues -- olive trees' a kissing playground' water slides' yoga' and a fair paycheck for those who made up the eclectic bill of artists. The lineup included Nathan who filled the shoes for Brett Dennen as opener for Michael Franti on the main stage. But before Nathan even arrived' he received word that the fest was spiraling down into a financial bust' and although the show still went on' it would likely not pay for his ticket back home as expected.
But to Nathan and friend Chad Galactic' a road manager who has worked with Nathan's band Surprise Me Mr. Davis' this news was just the lemon that they "proceeded to make all this lemonade with."

In other words' the Mystic Garden fiasco was inspiration for a West Coast tour that redefined the very meaning of the word "fiasco." After not much deliberation' Nathan canceled his return flight home. In less than two days' he' Chad and a handful of friends and fans booked an impromptu run through the Northern California coast. The entire tour was booked on Chad's iPhone and promoted through Facebook' Jambase.com' and a 5-minute YouTube video' which took 28 takes to shoot. Hippy Fiasco was riding again' taking Nathan to Chico' Petaluma' San Francisco' Oakland and Santa Cruz until the beginning of August.
For Nathan' who has played shows for almost two decades' this would be his first tour with T-shirts and posters. "Just every fucking thing is rock and roll'" he said.

After discovering the shows on Facebook myself' I too faced my fiasco fate and was soon thrown into a whirlwind of Moore music by the bay. After a packed show at the Connecticut Yankee in San Francisco on Friday' July 30' the next Sunday I sat with Nathan and Chad on the footsteps of a wooden stage at a friendly house in Oakland' where we got real about the true' free and "creepy" essence of the hippy fiasco.
JM: The first time I saw you play was last Halloween at Las Tortugas in Yosemite. It was the most intimate show there!

Nathan
: From the early days' it was like "If you have a glass of water' do you want to take it to the desert' or to the well?" And the desert is a fun place to take a glass of water because you meet people. And as a songwriter' I could have pursued the "folk singer" market and singer-songwriter festivals' but I'd much rather take my glass of water into a great hippy fiasco.
JM: When you play out' you said in a past interview that you like to play the "classic" songs' not necessarily in support of a certain album' but what feels right to you in the moment.

Nathan
: That's right. And I'm happy to say that "Hippy Fiasco" has a few new babies that it's unleashed. It's been fun to play those new little guys. I just have a few new songs just from this week that I had a blast playing tonight.
JM: Wow' songs that you just wrote?

Nathan
: Yeah. I got to this point where for a long time I only played what was fresh' and in the last year or so' it sort of hit me' where my entire repertoire just sort of unfolded before me like a palette of colors that I can paint the moment with.
And it was pretty powerful because I didn't see it within the same time constraints anymore. So' lately' I've been playing every song I've ever written' just whatever fits the moment as best as I can deduce.
JM: I think that's great' especially with people who have listened to you for a while' because there are certain songs that will really call to them from the past. If you're so restricted by an album' I could see how you might lose some of the nostalgic element' something that had grabbed them since the beginning.
Nathan: Yeah. Well' I went through a long phase where nostalgia was my least favorite thing. And I still to this day' sort of feel that way. I sort of hate nostalgia. But on the other hand' there's the reminder that we've been at it for a while' and that we have history' and that our friends are really that close. And on so many levels' having a history doesn't have to be nostalgic. As long as it's still living in the moment' I don't have as much of an issue with nostalgia as I thought I had.