Shows
Umphrey's McGee
August 4, 2010 at Saranac Brewery in Utica' NY
by Jeff Tehan
|
photography by Michelle Arthur
August 9, 2010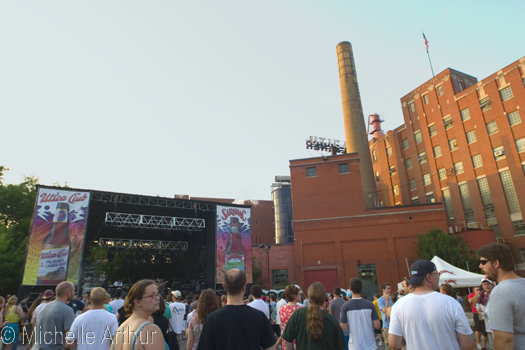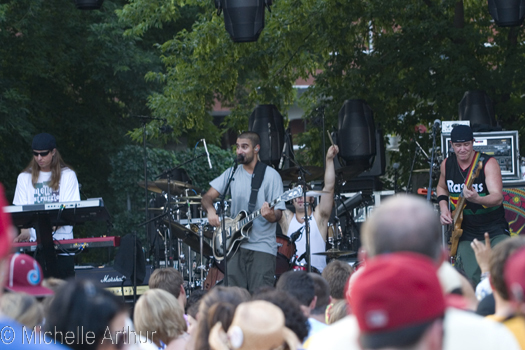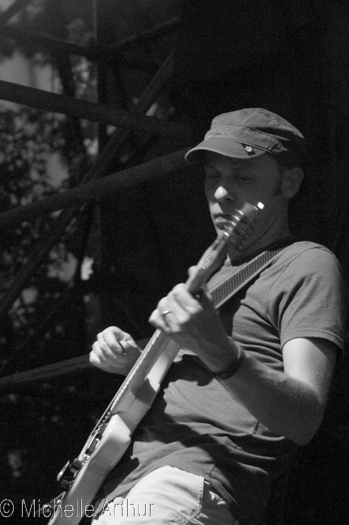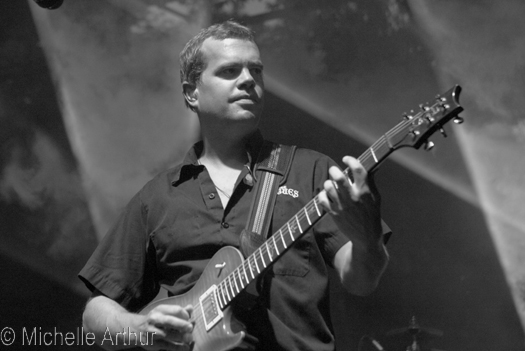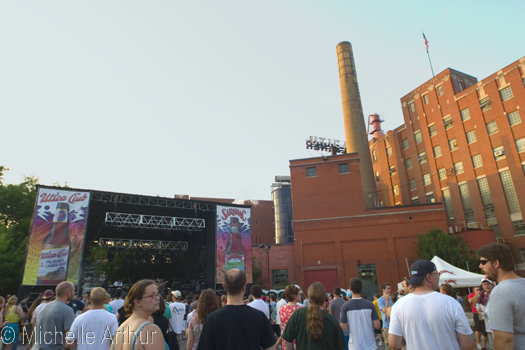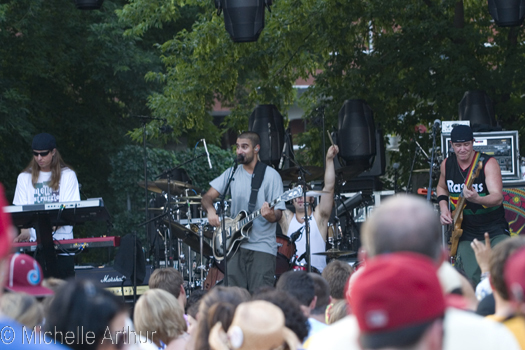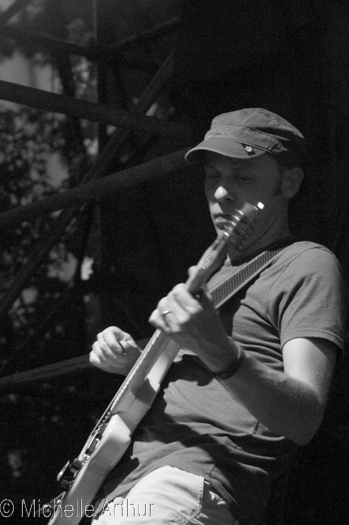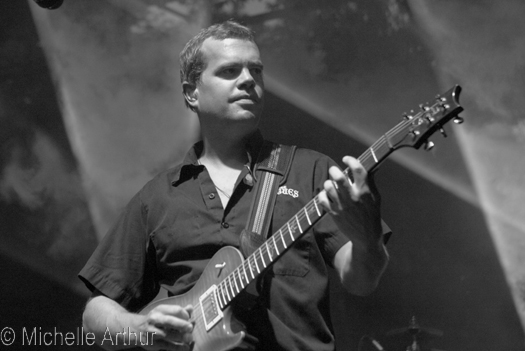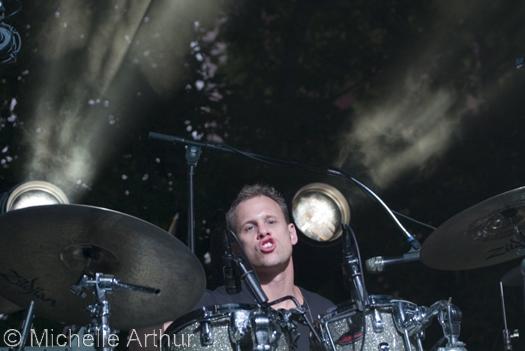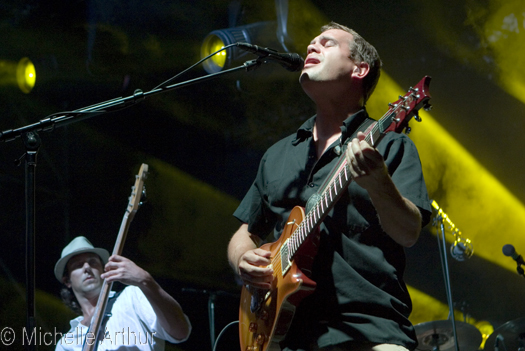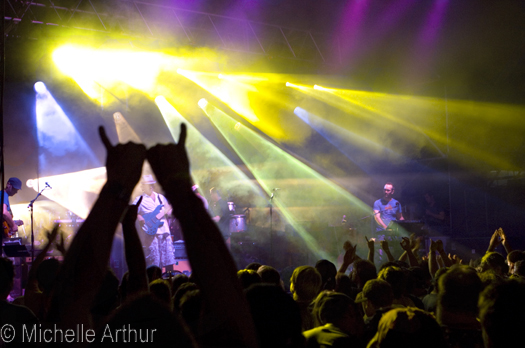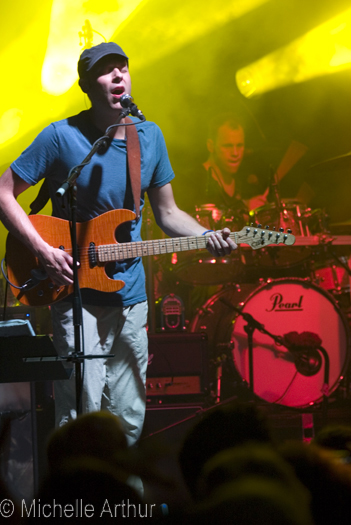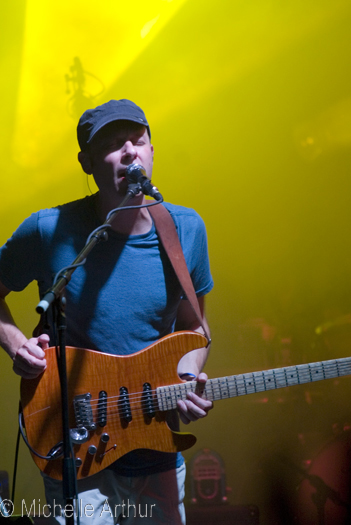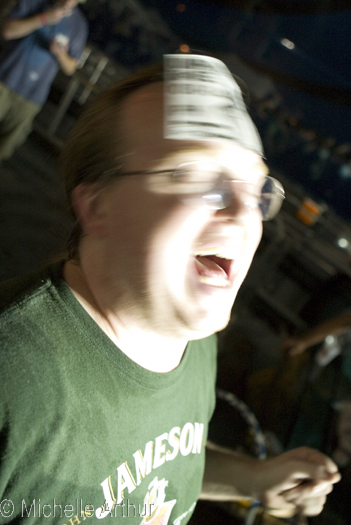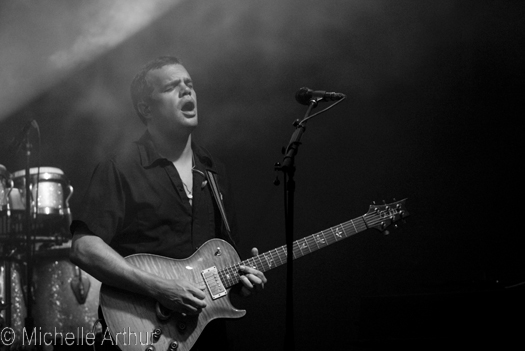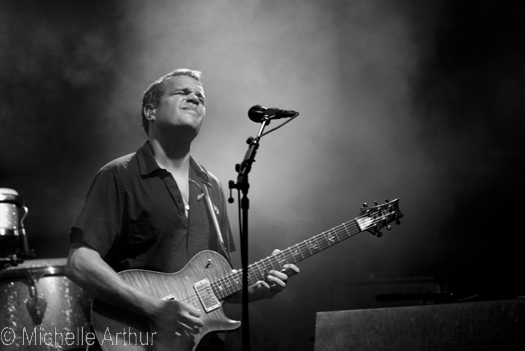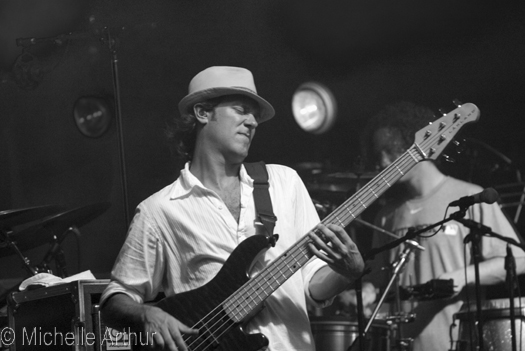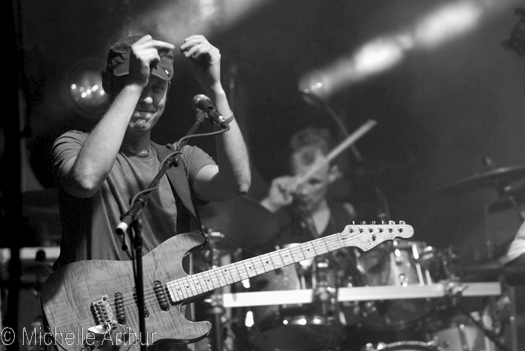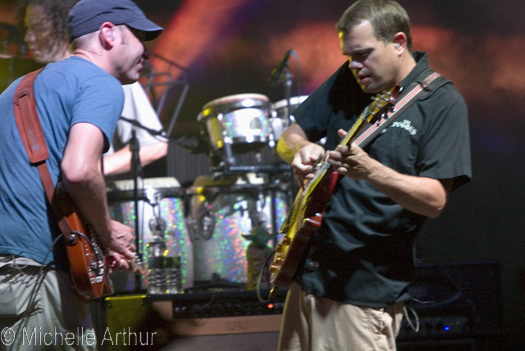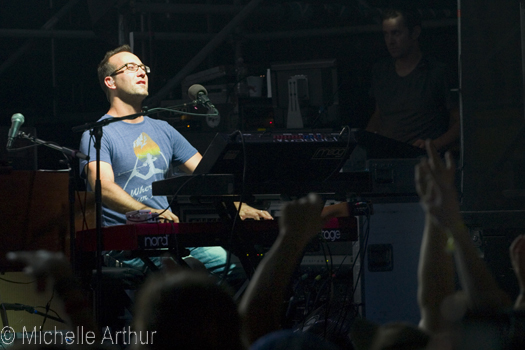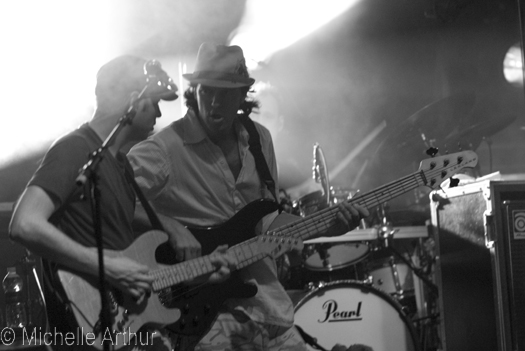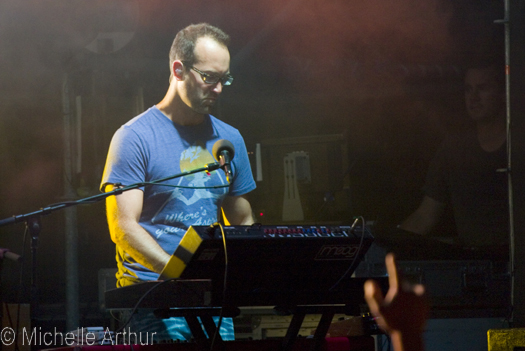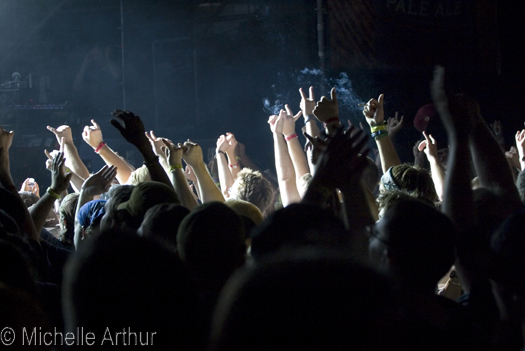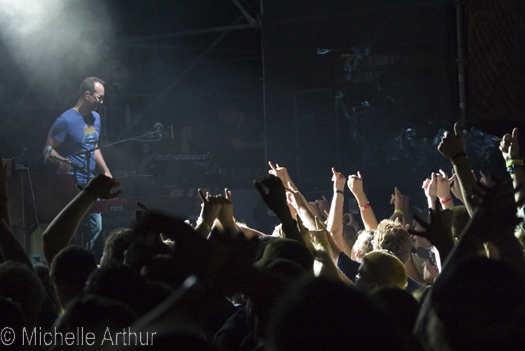 If you live in Upstate New York' one of the finer developments of the last decade for beer and music lovers is the stage at the F.X. Matt Brewery in Utica' makers of Saranac and Utica Club' the first beer sold after prohibition. Every Thursday evening during the summer they have free concerts showcasing bands from the area' a fantastic opportunity for the up-and-coming. In addition' they have a Summer Concert Series with bands ranging from STS9 to Night Ranger to Umphrey's McGee (that are not free… not that there is anything wrong with that).
The permanent stage sits right outside the brick brewery at the bottom of a gently sloping' paved area. The slope is perfect for the shorties (myself included) who would otherwise have trouble seeing past tall folks on a flat surface. The concert area is ringed by Umphrey's McGee's bus on one side' food' beverage and merch tables in the back and tables on the other side closest to the brewery serving the beloved Saranac and Utica Club on draft (two beers for five bucks' people. You can't beat that with a stick!!). To top it all off' there's even a tall smoke stack to give you that Pink Floyd Animals feel.
Before the band took the stage' F.X. Matt Brewing Company president' Fred Matt' stepped up to the mic. He told us that five years ago Umphrey's McGee played the first concert on that stage (along with School Bus Yellow' The Bridge and Moon Boot Lover -- he didn't know that part… I do because I had the pleasure of attending). In honor of that' Matt Brewery was buying the beer until the band played its first note. And' the sweethearts that they are' the band made sure to spend extra time tuning and making sure the gear was working. After a few minutes' with keyboardist Joel Cummins warning us that the last chance to get free beer was coming and both he and guitarist Brendan Bayliss feigning an apology for taking so long to get ready' the band counted off and launched into "Got Your Milk (Right Here)."
The short rocker got the blood flowing and they kept it moving with "Bright Lights Big City." The synth keyboard work mimicking the vocal melody bookends a section featuring more synth syncing with stunt guitarist Jake Cinninger' giving this thing a sci-fi-futuristic feel. And when they drop down into the patented Umphrey's house groove' you close your eyes and it feels like a trip down the West Side Highway on your way into New York City' wind blowing through your hair. Eventually drummer Kris Myers drops four to the floor and it's officially a dance party. The band brings you to a modest crescendo and comes to an abrupt halt' so as not to pick you up too high' too fast.
After a quick breath' prog rock muscles are flexed a little and the band offers up "Spires" from their latest release Mantis. The concise rocker seamlessly transitions into the instrumental "KaBump'" telling you to put down the horns and get the dance shoes back on. The chameleon that is Umphrey's McGee starts out funky for the first half on this one and' with a brief two-chord transition' takes us back to the house groove. For the next seven minutes' they wobble between the groove and the opening funkiness with the crescendo' again' only hitting a modest height. The song winds down and Jake starts the opening lick to "Mail Package."
After one round' Bayliss joins in a few steps above Jake's line' giving him the opportunity to throw in some fancy fills. The whole groove comes at you slow and feels like someone is stepping on its tail to make it drag even slower and' dare I say' a little nasty. Schizophrenia running high on this one' you're then fed a strange (in the best possible way) section with organ bombs dropped on the two and four over a dueling' adventurous guitar line. They return to this general theme after the verse section' which has that dirty slow-rock feel. Cummins adds a keyboard solo over a light' funky bed and they reset back to the beginning theme. It takes on yet another personality as the dueling guitars come back out and Jake and Brendan bring us to a quick apex' all sewn together like it's just meant to be.
The chameleon changes colors again and the band drops into "FF." A perfect blend of reggae for the verse' chorus and keyboard solo molds into a rockin' jam that stretches out for guitar and more keyboard soloing. Bayliss' voice always stands out on this one for me and I was' no doubt' singing along. Next comes "Push the Pig'" after another seamless segue. This time Bayliss is joined on a staccato verse by Cummins' each line rising and falling like a drive on a hilly' country road. The dueling guitars' which Umphrey's does so well' come back out with another shared line to set up the slow noodle-jam' with Cummins offering some Pink Floyd-esque synth work and everyone just quietly dancing around each other.
The band taps into Mantis again' this time with "Red Tape'" another prog tune with a fantastic keyboard solo reminding me of Genesis and Yes at times and a crazy intro that makes me think of water just coming to a boil that they revisit more than once. The band spaces out a little and segues into their Dub Side… take on "Breathe" by Pink Floyd' always a crowd pleaser. Bassist Ryan Stasik sticks out on this one' with his solid' fat groove and his sky blue argyle socks (ok… I noticed the socks right away. They more or less matched his shoes AND his bass and he was lookin' good!!).
Building off of another slow' dirty groove' "Professor Wormborg" feels like they are sneaking around cautiously' making sure they don't step in something or maybe trying to sneak into the good Professor's class. All the while' a sense of danger… nothing too scary but just keep your eyes open. Cummins gets to tickle the ivories in a brief section that reminds me of Page McConnell of Phish. By this point of the night' the Saranac had done me justice and I was cuttin' a rug. To know me is to know that Halley's Comet (not the Phish tune) comes around more often than I let loose and boogie.
Much to my delight' the soft' arpeggiated opening of "2x2" emerges to close out this one-set affair and to keep us struttin' our stuff. Bayliss sings for us again and they make their way from verse to bridge to chorus with the energy stepping up for each section. The song falls into a slinky' rockin' groove highlighted by another dose of heavy twin-guitar action. They repeat this entire section and' after the second pass' Bayliss takes a couple tight' fiery solos until they find that slinky groove again. They pause for a breath and a jam builds up from nothing' with some crunchy chords and a dose of organ. Then out comes the Salad Tosser' a.k.a. Kris Myers (so called on account of his appearance when he's really going off). After a few measures of 128th notes' the carnage boils over the top and they march together for 8 bars' as if in celebration of reaching a summit. Bayliss leads the way back down to another trough and back up to a smaller mountaintop before reminding us of where we started. The soft' arpeggiated riff returns' gently setting us back down to Earth.
They opened the three-song encore with "Soul Food I'" another example of their mood-setting' funky' rockin' instrumentals. This segued into "Thin Air'" a fun' reggae-tinged number that works it's way into a taste of "In the Hall of the Mountain King'" Umphrey's style. This pair of tunes finally offered us a couple of good looks at percussionist extraordinaire Andy Farag. Certainly present throughout the night' he's the perfect compliment to Myers and very good at playing the right amount of notes. Too much of something can be a bad thing and he ensures there isn't any clutter on the back line.
To close out the evening' Umphrey's McGee turned it up to 11. The first time I heard "Wizard Burial Ground'" it was just a few shows old. At first' I thought it was a Megadeth cover until they got to the "Frankenstein"-y synth solo. After bothering my neighbor' I learned that it was' indeed' a heavy metal original. Once you get past Megadeth and Frankenstein' you start to think Dream Theater. Eventually you realize that it's simply
Umphrey's McGee
at their heaviest. And' if you are into that sort of thing' it's a monster.