Blog

Osheaga Preview: Sampling Montreal's Local Flavor
by Ryan Lowell
July 28, 2010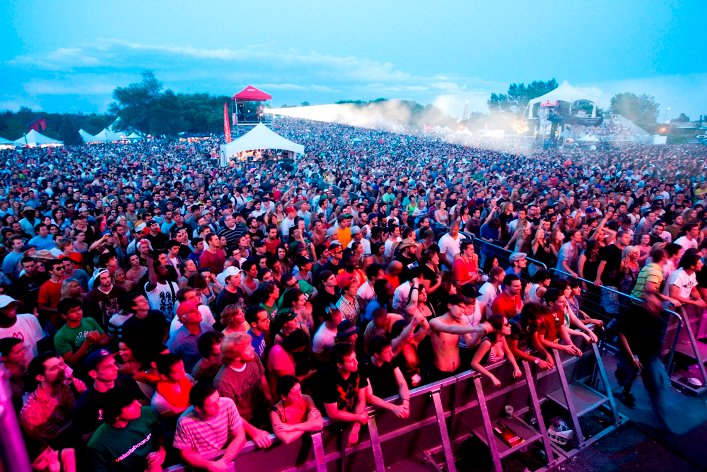 With a seemingly infinite number of summer festivals and a regretfully less accommodating number of paid vacation hours accrued' a great festival needs something special to earn and maintain a loyal audience. This year I'll be heading North of the border again' back to Montreal's
Osheaga
festival' a worthy use of my hard earned PTO. Sure Osheaga is hosting plenty of the big names who are making the rounds this summer' like Pavement' Sonic Youth and The National to name a few. But what sets the pride of Parc Jean Drapeau apart from similar hipster oriented festivals is the local flavor Montreal adds to the equation -- both onstage and off. Apart from the gorgeous national park backdrops of Osheaga's smaller stages' excellent public transportation and impressively clean concert grounds' the countless talented local bands playing throughout the weekend are what show Montreal in the best light. Last year I was caught off guard' but this time around I've got my eye on several of the locals' anticipating the bands that might make me fall in love with Montreal all over again.
We Are Wolves:
A chaotic mess of abrasive distorted riffs' club banger beats and the language of love' this hometown trio has all the necessary ammo for auditory assault in a live setting. Apart from energetically mixing punk and techno' the group's aggressive bilingual vocals make for Francophones that sound less like they want to seduce your girlfriend and more like they want to raid your liquor cabinet and do back flips off your roof.
Final Flash:
Dubbed a psychedelic folk/rock group' I can tell from the few videos I've watched online that Final Flash's dense sound can't be fully captured in a slew of camera phone clips posted on YouTube. But the fact that they're an engaging listen in spite of bootleg limitations has me wondering just how much energy this quintet can pour out in person. Impressing with both folky acoustic tunes and upbeat group jams' Final Flash's layered arrangements have potential to add another layer of beauty to their surrounding wilderness.
Marie-Pierre Arthur:
In this world of double standards where We Are Wolves get credit for somehow making French somehow not sound seductive' their female neighbor Marie-Pierre Arthur caught my ear for the exact opposite reason. Though I'm still undecided about the iPod commercial ready instrumentals backing her every foreign word' a trip to Montreal just wouldn't be complete without watching a pretty girl sing in French. Her half hour set won't be time enough to teach me the local language' but it could be just what I need to get in the romantic frame of mind for my first date with Pavement.
Arcade Fire:
Though these dangerously hyped Montreal natives have an audience far beyond their hometown' I'm cautiously optimistic that they'll be in top form on their home turf. And they'd better be' because performing in the headlining spot means performing for a half hour longer than weathered vets Sonic Youth and Pavement. Both championed and plagued by the success of Neon Bible' Arcade Fire have to live up to the greatest expectations of their career with their follow up The Suburbs. Their Osheaga set will fall just days before The Suburb's release' and should be a good preview of the nature of the inevitable media storm to follow. What little I've heard of Suburbs sounds promising' and I'm hopeful that the band will deserve their headlining spot. Here's a live video of the title track from Suburbs. The quality isn't excellent' but it previews the group's solid new material and front man Win Butler's snazzy hairdo.