Shows
Camp Bisco 9
July 15-17, 2010
at Indian Lookout Country Club in Mariaville' NY
by Mike McKinley
|
photography by Alex Rice-Swiss
July 27, 2010
page 1 of 2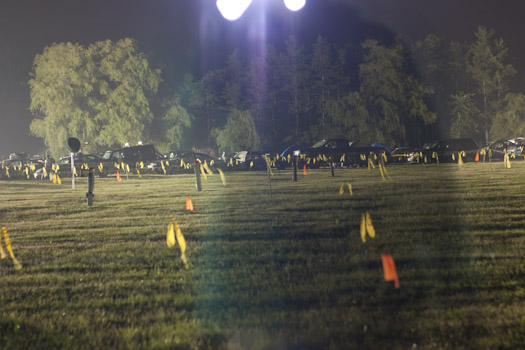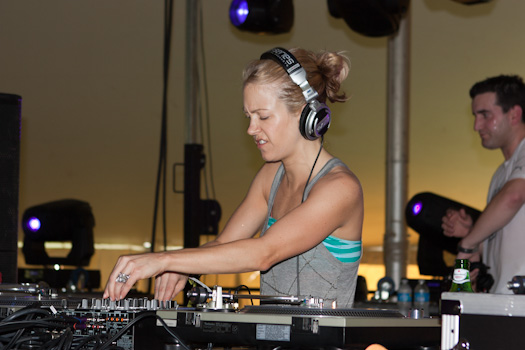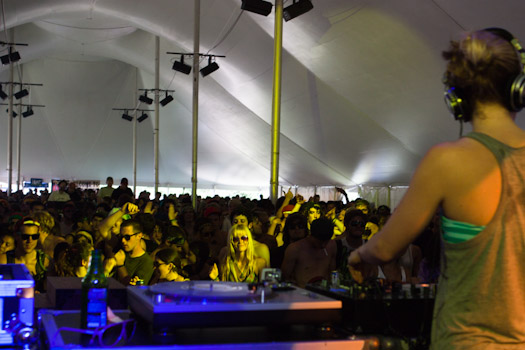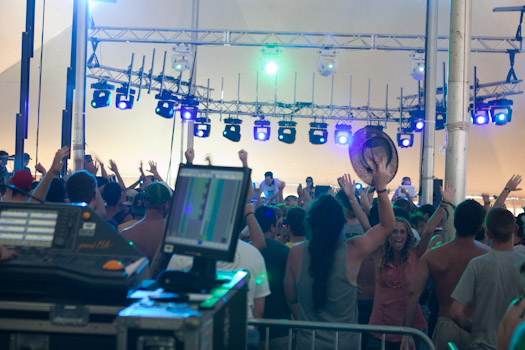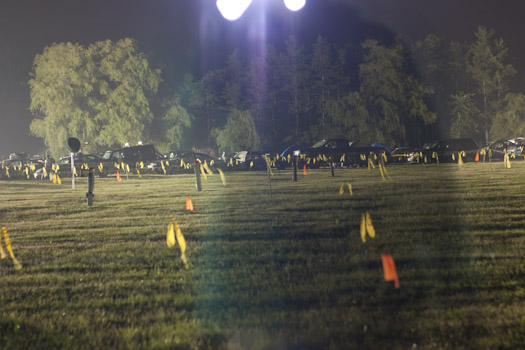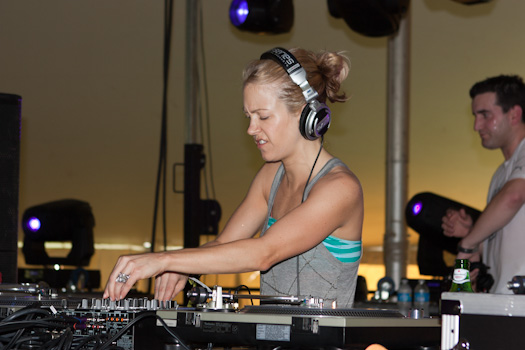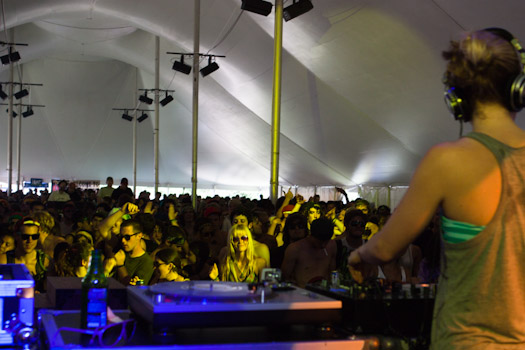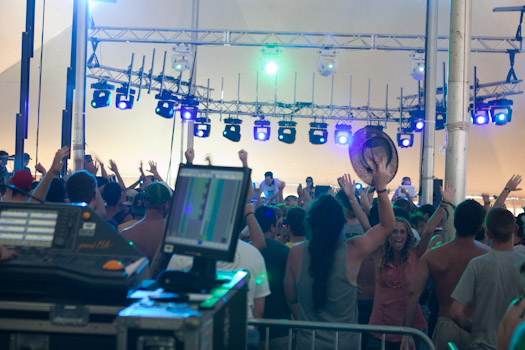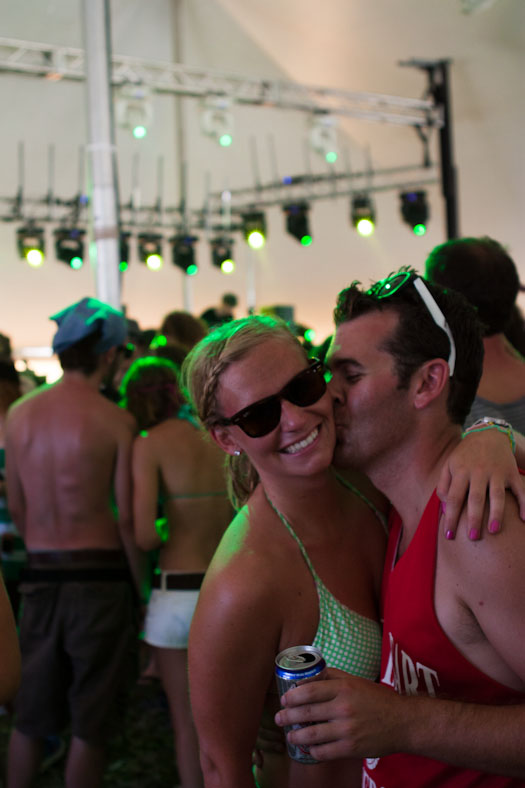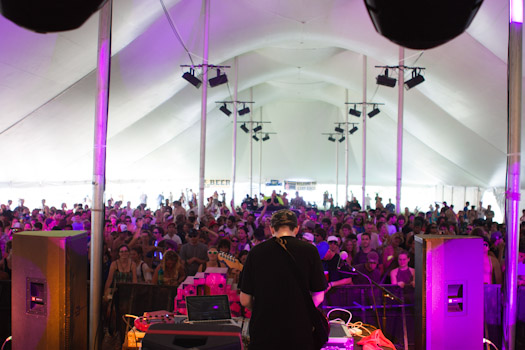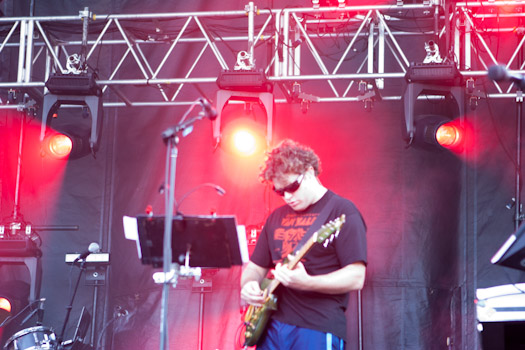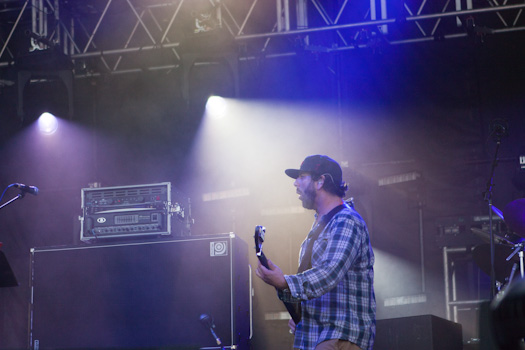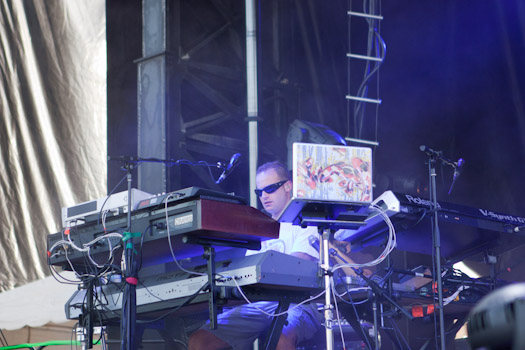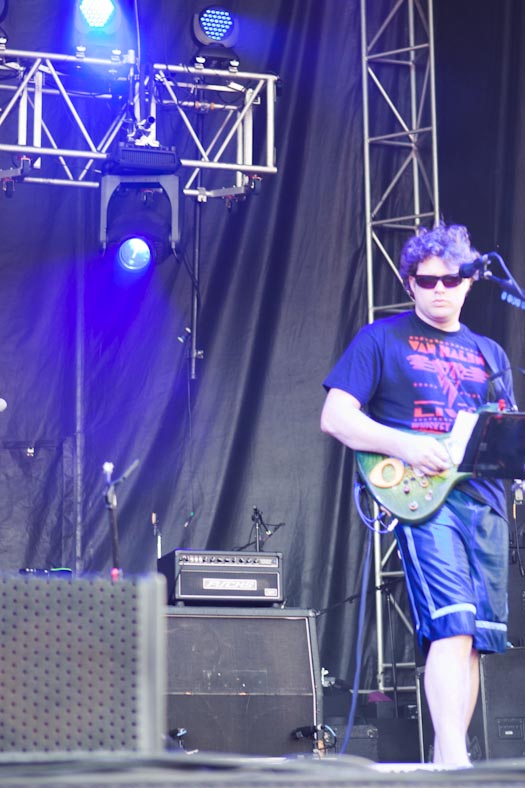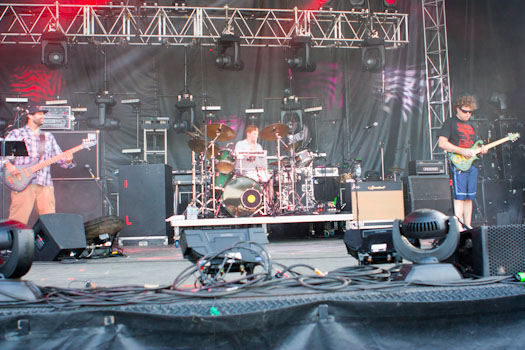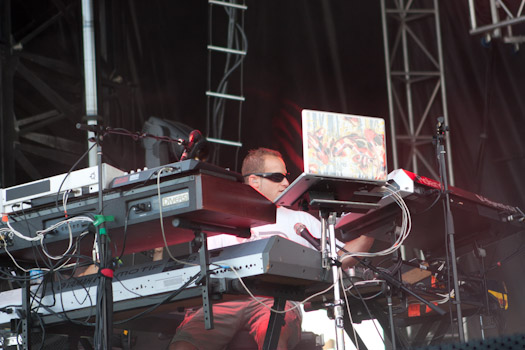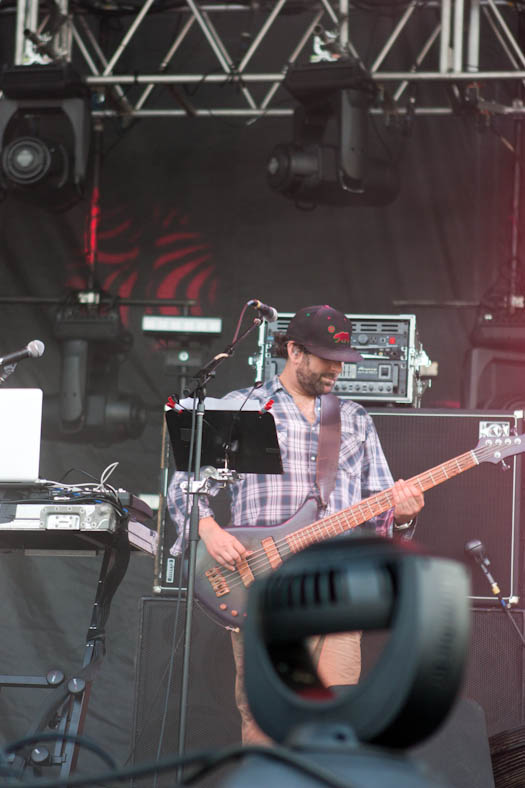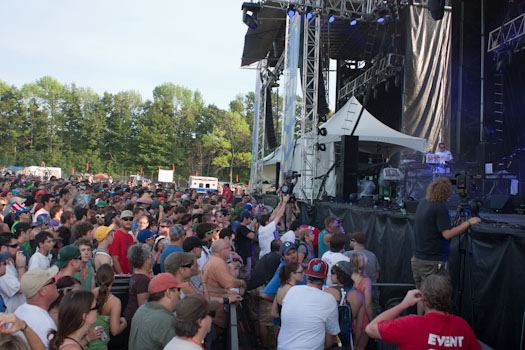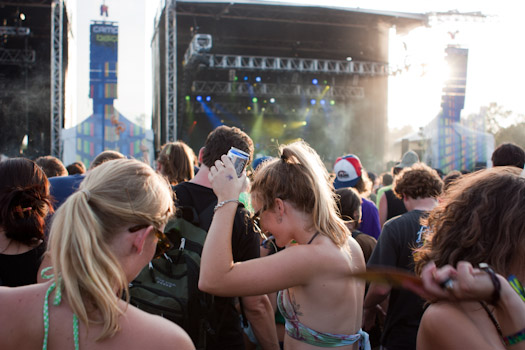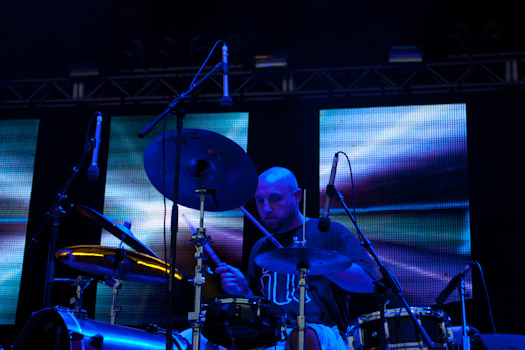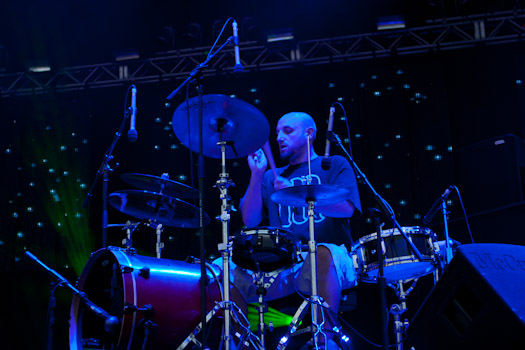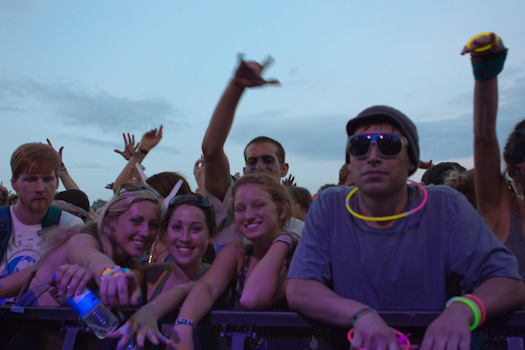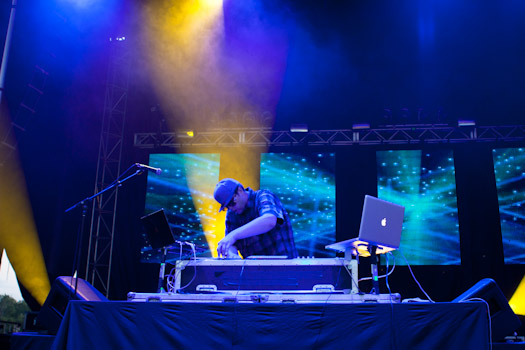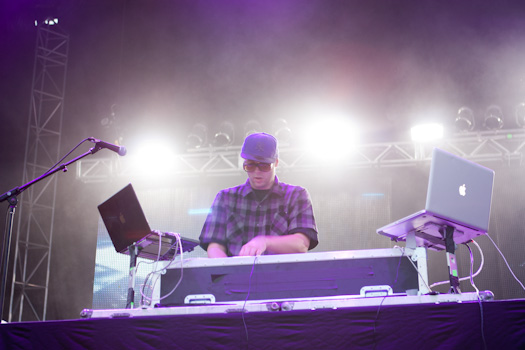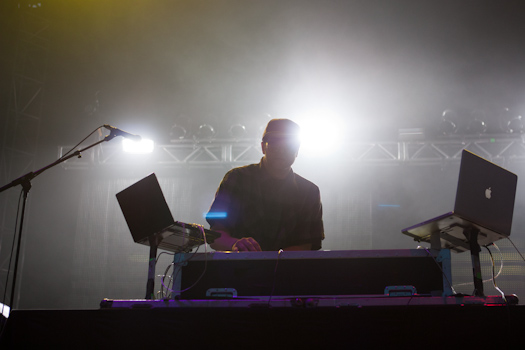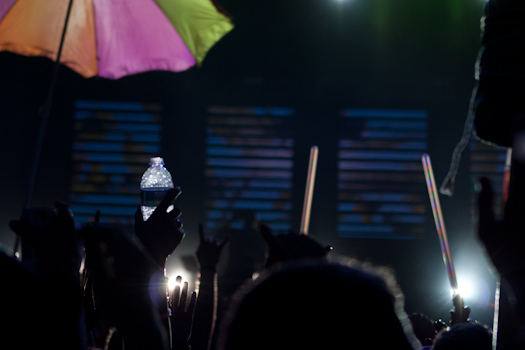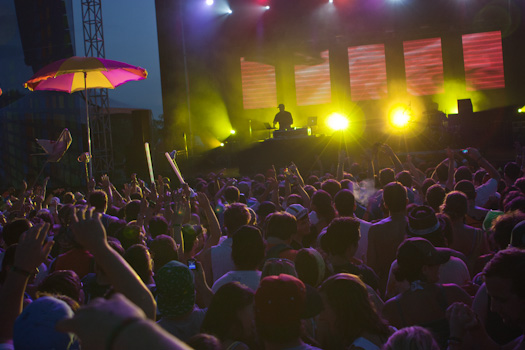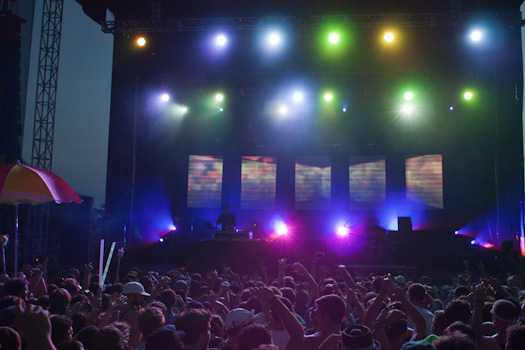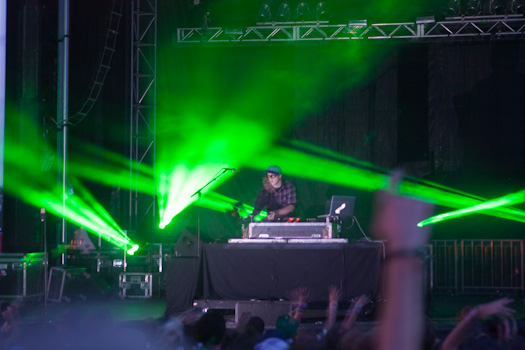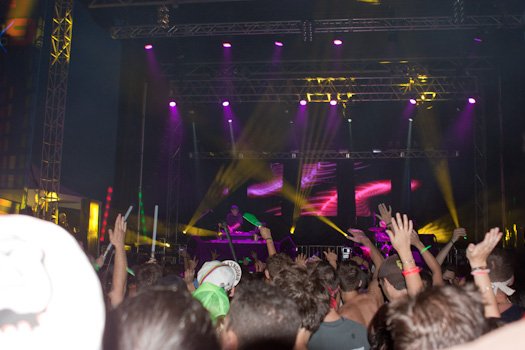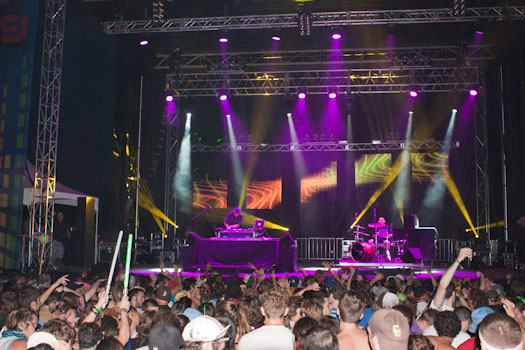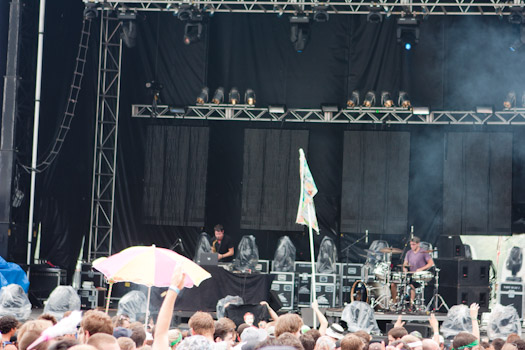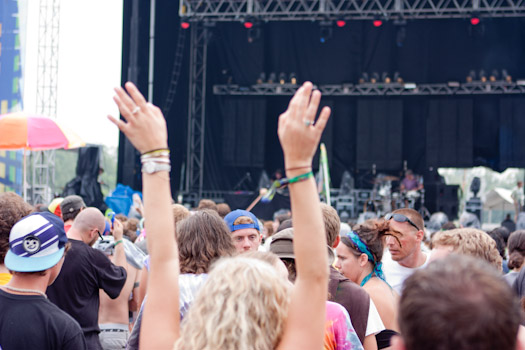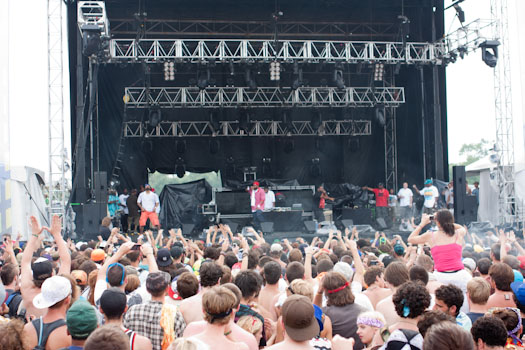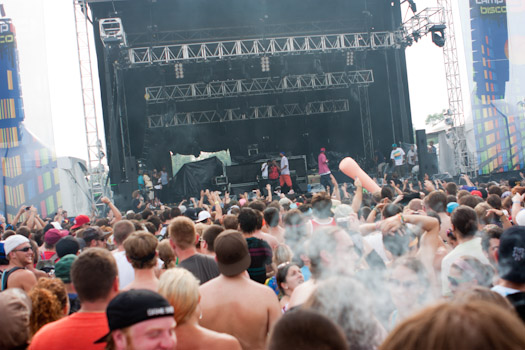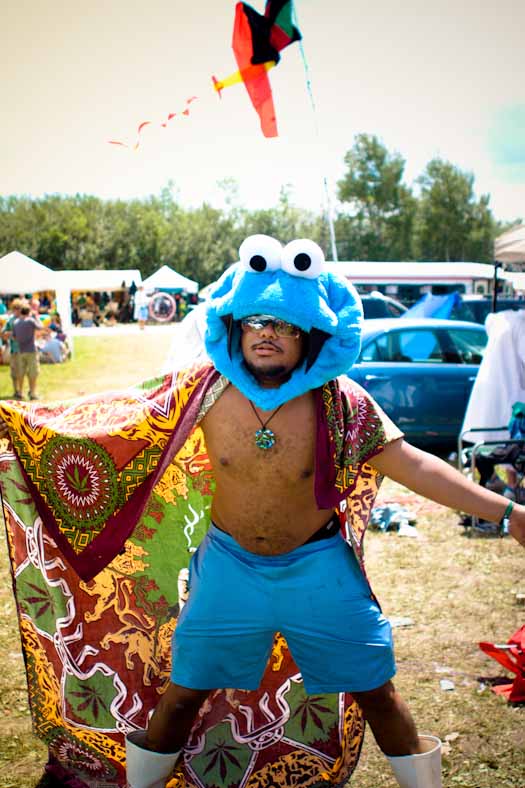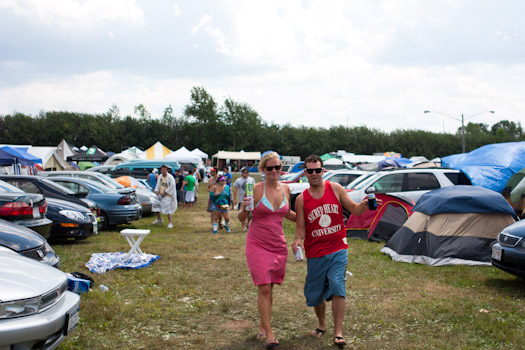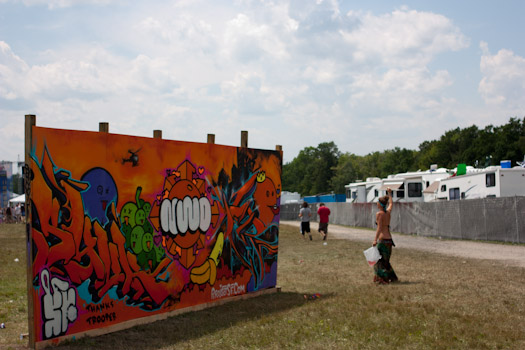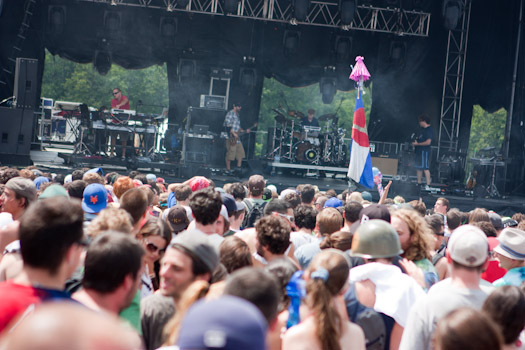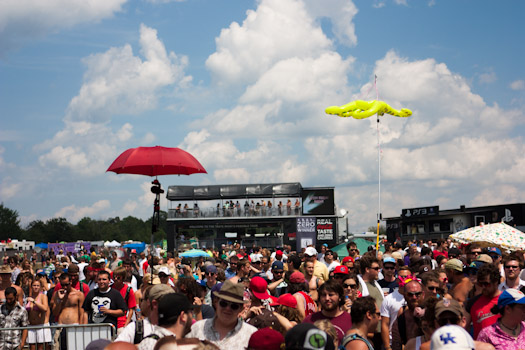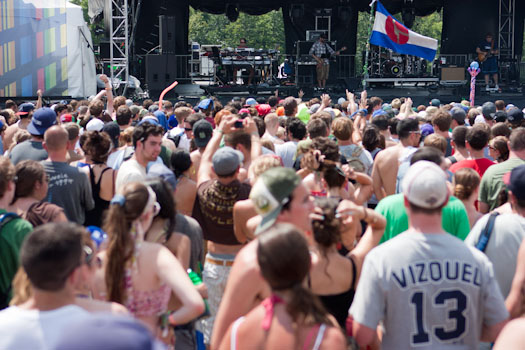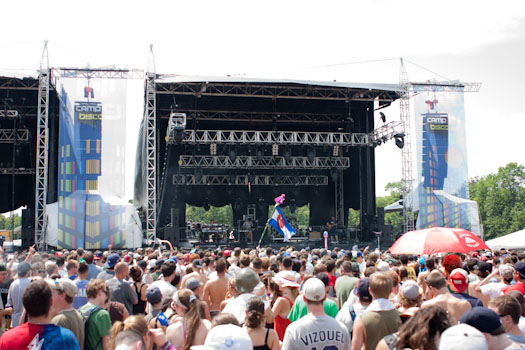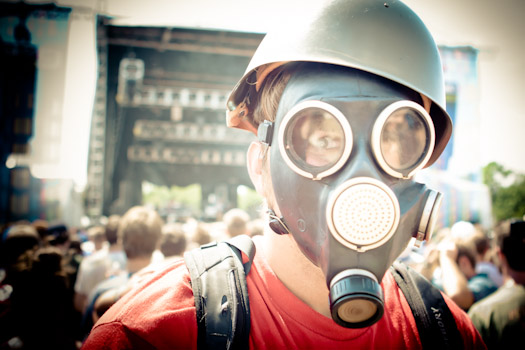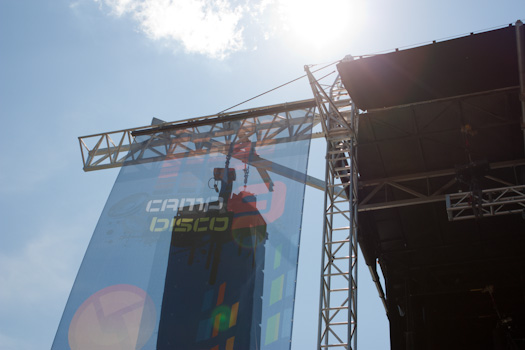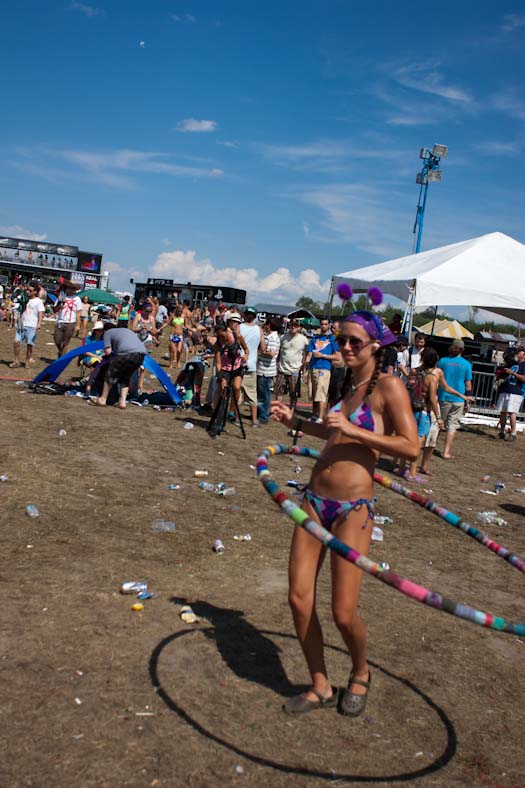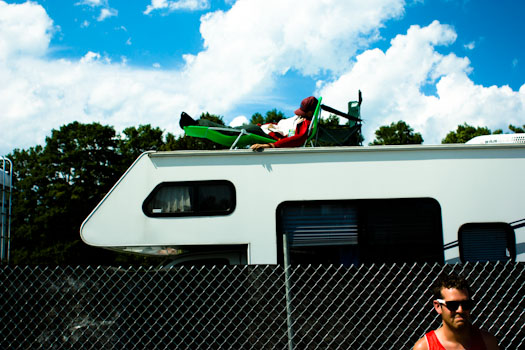 The celebration was shining bright at Camp Bisco 9 and you could feel it in the air: people were having the time of their lives. There were several moments over the weekend where I stepped out of the zone and just watched what was surrounding me -- thousands and thousands of people losing themselves' dancing and feeling the music. Being part of it is a mystical and beautiful experience. The crowd brought it too: costumes' masks' painted bodies' sparkling clothes' tons of funny t-shirts' and of course' glow toys. It was a colorful rush of humanity that made things almost as stimulating as the music. There was a thirst for fun in the air' to completely step away from the daily grind' let loose and blow off as much steam as possible. The infectious energy made every band step it up and sound better.
The venue (the ILCC) is run by bikers and they handle all the security -- perhaps it's the mutual admiration between the fans and them (everyone knows not to fuck with these bikers at this point' right?) that makes this thing go down in such a positive way. For the most part' as long as you're not doing anything stupid' they don't hassle you. In return' they do a great job of deterring the sketch factor from entering the grounds. It was nice not to see one nitrous tank all weekend. It made the focus of the festival clear: music.
With over 50 bands playing over three stages' there's no possible way to see it all. You take what you need and leave the rest -- there's no shortage of good music to go around. The amalgam of sound and diversity of bands is what has made Camp Bisco unique -- blending everything from hip-hip acts to psytrance DJs to indie rock bands to jam bands to electronica bands. The only thing it seems like you don't hear is bluegrass or country twang. It says a lot about the Biscuits' music that they can be the sonic nucleus that holds it all together at such an event. Throughout their five sets (one was cut on Saturday night due to rain and lightning) they proved why. To put it bluntly' they hit it out of the park all weekend long. Absolutely crushed it. Each set had its own character and story to tell' with as much musical variation as musical spirit.
Seeing the Biscuits perform was a reminder why they have such a loyal following and why they consistently put asses in seats. When they took the stage for their first set Thursday evening' bassist Marc Brownstein said something to the effect of "This is by far the biggest' and most certainly is going to be the best Camp Bisco -- I can already tell." The tone of his voice implied' "We're not fucking around. This is going to get dirty." They launched into "House Dog Party Favor" and it moved like liquid. They were immediately in a deep space' throwing each other one inspired idea after another. During the improvisational segments' they took a ton of chances at every turn' and for the most part' it worked. We were off and running.
It was a nod to both Pretty Lights and LCD Soundsystem to give them the headlining spots for Thursday evening. The Biscuits set the tone and both bands followed up by delivering incredible sets. Pretty Lights supplied one deeply layered textured groove after another and they had everyone there completely captivated. Really impressive.
It was my first experience seeing LCD Soundsystem live and it helped define the weekend. Days prior to the show a friend mentioned that LCD Soundsystem is the closest thing we have today to the Talking Heads. That resonated with me as each tune developed' building momentum and intensity over heavy' polyrhythmic grooves and James Murphy's witty and insightful lyrics -- the perfect sentiment for the kind of celebration going down. "All of My Friends" felt like the soundtrack song for the weekend' while "Losing My Edge" was dripping with just the right amount of sarcasm' especially being a bit older than most people in attendance. Yeah' I was there before the Disco Biscuits found the untz. Nonetheless' I would have loved another hour of their music.
RAQ was the first set I caught on Saturday and it was refreshing in two ways. First' there's so much dance music happening' that a rocking shred fest felt like a nice change of pace. Secondly' it's good to see RAQ playing music again after disbanding for some time. They did what they needed to do -- go away for a while and reassess what their purpose is toward making music. I'm not sure they figured it out' but they sounded great. This set had some big moments with Chris Michetti's guitar playing putting some jaws on the ground' and the band settling back and taking their time to get there and really let some jams get deep. Yes' it was nice to listen to RAQ and not feel like they're ejaculating on your face for an hour straight.
Speaking of ejaculation… Thievery Corporation was ridiculously fantastic. When they dropped the beat' I kept thinking' "Yes!
This
is how it's done." Their music' enhanced with the full band' had so much texture and life. With roughly ten different vocalists rotating between each song' it was one flavorful cut after another. This was the band that took the sun down' the one that made everyone kick off their day time dancing shoes and put on their night time' 'get-super-loose' dancing shoes. Seriously' as soon as they dropped the first beat' it felt like a transformation from daytime fun mode to rage all night mode. After their set ended' Major Lazer came on but I had to walk away and take a break' as it felt like
THIS
compared to Thievery. But after a 30 minute break' I returned and felt like they were a nice warm up for the Biscuits. Thievery was just that good.
The Biscuits played two really strong sets Friday night with a bonus surprise -- the dazzling display of lasers added to the light show. It was an absolutely stunning spectacle with the music' and took the performance up several notches. Bravo.

We got to close out the night with the New Deal and it felt like they never left the comfort zone. It's easy enough to keep everyone moving and having fun this late at night and the New Deal on autopilot is still some of the best live breakbeat music you can get. But' after seeing this band last January hit multiple moments of near transcendence by slowly letting ideas develop' stacking layer upon layer of thickness over a groove before finally exploding' it felt like this set never quite got to that level. Even at four in the morning' this performance felt a little softcore.
The third and final day started in the blistering heat as the Disco Biscuits got just about everyone out to the Main Stage for a 2pm set. As the crowd flocked in' Spiritual Rez was pouring out the energy. And then it was another stellar set by the Biscuits' highlighted by "Aceetobee"->"Mr. Don"->"Pat and Dex" -- old school tunes with the new school flavor. Even the opener "On Time" with keyboardist Aron Magner on auto tune vocals sounded disgustingly delicious. This band has so much depth that they can even pull off doing cheesy shit. Add Brownstein's throat box vocal effect during "Voices Insane" on Friday night for additional proof.
Ween's sarcasm' irreverent style and the way they play dirty rock music was in full force during their set. I can't recall a time when I've seen them smile so much onstage and play with such enjoyment. Hearing songs like "Bananas and Blow" on day three of a festival makes you feel like an achiever. And I can hear them stretch out "Voodoo Lady" any day of the week.
Unfortunately' Brothers Past's prime spot between Ween and the Biscuits was cut short due to lightning. After the first interruption' they came back with "One Rabbit Race" and when they opened up and started jamming they hit a moment that all great improvisational bands hope to hit: they transformed from four guys with instruments to pure music. It was hot. They followed it up with "Leave the Light On" -- the first track off of 2005's This Feeling's Called Goodbye and it was more fire. They were going for it. Much like RAQ' Brothers Past also needed to go away for a while and reassess why they're making music. Hearing them play briefly at Camp Bisco looks like they found new meaning' energy and purpose for playing together. I can't wait to hear what they come up with next.