Features
Home Is Where the Gig Is: Conversation with Fred Torphy of Big Light
by Ryan Lowell
|
photography by Josh Miller
July 21, 2010
page 1 of 2

When it comes to defining success' normal folks and musicians seem to be on different wavelengths altogether. The road to success can differ so greatly for common people and creative types that it's almost as if they're headed in opposite directions on the same path. Take Big Light frontman Fred Torphy for instance. Fred recently quit his day job and became homeless' and now he's' as common folk say' really going places.
Though he lacks a steady roof over his head' it's not as though Fred's begging for change and huddling around trash can fires to brave brutal New England blizzards. The less sensational' more accurate version of the story is that he's temporarily couch surfing at various friends' pads in and around sunny-ish San Francisco' so he can fully dedicate his time and money to his beloved band' Big Light. Abandoning the 9 to 5 working world completely is typically considered a reckless life decision' but as months pass and Big Light's success snowballs with every gig' Fred's move is starting to pay off -- even if it isn't paying bills.
"We've all moved on from day jobs'" Fred says. "It's a full commitment. We don't get much out of it material wise other than when we're on the road we eat for free and have a place to stay. But then when you're not on the road all the bad things that go along with that really get put under a microscope. I'm homeless right now' our other guitar player's homeless [laughs]. We're just waiting to see what happens. We're all upping our personal commitment levels in hopes that this will all work out at some point."

Big Light have put a lot on the line' but for Fred and his fellow East Coast strays' moving to San Francisco and playing with the group full time has given them the time and resources they need to solidify their lineup and perfect their sound. Due to the instantly catchy rock riffs that structure most every song on their full length debut Animals In Bloom' Big Light are sometimes written off by critics as simplistic garage rockers who happen to keep company with jam bands. But close listening to Animals In Bloom reveals a deeper experience' defined by layers of instrumentation' lyrical Easter eggs' and the exploration and excitement of a young band still fine tuning the amount of each ingredient to mix into its concoctions.
Perhaps what's most special about Big Light is the very reason they're critically undersold. Fred's smooth vocals and 90s radio ready riffs offer an instantly accessible sound that everyone can identify and enjoy. What these critics are missing is that they aren't just hearing another dime a dozen radio rock group. Big Light songs may be built upon a foundation of good times rock and roll' and though it's that foundation that inevitably catches your attention in the first place' everything that's created on and around the foundation is what makes Big Light songs so full and rich. Sure there's plenty of jamming' but the jams reach homeostasis with each song's rock core' as every supplementary instrument and non-hook note caters to the overarching composition of every track. Proper utilization of this disciplined jamming results in 6+ minute songs that sound concise enough to succeed as traditional singles. Fred cites the arrival of guitarist Jeremy Korpas as a huge asset to Big Light's current sound.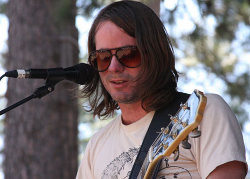 "There was always an experimental undercurrent happening in Big Light from day one' but when Jeremy joined last year he really brought that more to the forefront and out of the background. I think that's definitely what you're hearing full out on the record' he does crazy atmospheric shit. It's kind of a balancing act -- the songs vs. the chaos' and we like to meet in the middle'" Fred says. "We were pigeonholed from the beginning as this garage band playing in the jam band scene' and now we're jamming but no one thinks we're really doing anything different. It's funny."
Apart from lineup finalization' location plays a significant role in the Big Light mentality. In spite of off base critics' living situations and constant touring to varied crowds' Fred's songs and his outlook have a laid back optimism unique to the West Coast. On top of its intricacies and layers' Animals In Bloom is glossed with a sunny worldview to make a perfect summer soundtrack for those times when you don't want to think and you just want to rock.
"We definitely became influenced by the Bay area as we grew as a band. Being outsiders' it just seeps in… it might give us some of our looseness' that's definitely part of the whole San Francisco thing'" he says. "People are really patient here' that's one thing I've taken away from playing music here in San Fran coming from the East Coast. People are willing to give you a few shots before they write you off. They're willing to watch you grow' or wait for you to grow. I certainly wouldn't have put this band together on the East Coast. It would sound nothing like it does."
Having honed their chops in the Bay area scene' Big Light have spent much of their newfound available time touring the country like mad. The group's cross-country jaunts have been contrasted by spectacular highs and sparsely populated lows' recruiting fans and making friends from San Fran all the way back to Fred's New England (Rhode Island) origins.
"We're getting to a lot of places we haven't been to before. We did South By Southwest this year' which is a good landmark for us. I think the name of the game for us is we're going into places we haven't been' where people don't know us that well and people are going to the shows based on a recommendation from a friend. We're trying to meet as many people as we can and start relationships' because if you can keep a personal relationship with people in a town where you don't have a huge presence' it goes a long way'" Fred says. "Those people become your support network. If they believe in it then they'll want to help you out as much as they can."
Fred's style of fan base building is not unlike the person to person approach of Big Light's L.A. neighbors Foreign Born' another possible side effect of the Californian state of mind. The person to person strategy is one that bypasses mass appeal for highly involved' personal relationships between fan and musician. Big Light isn't setting out to be on millions of iPod playlists' they'd rather make a deeper connection with the passionate fans at their shows who couldn't find meaning in a life without music.
"It's literally winning over one person at a time' that's kind of how we feel it's going right now'" Fred says. "Sometimes it feels like an uphill battle' really slow. But at the same time we can see a difference. We just did New York for the second time' the first show there were only 300 people there and the second show there were 600 people there -- we're seeing something happen."
Big Light are in a liminal phase. On one hand they've cultivated a substantial following on both coasts and several cities in between' and earned praise at renowned festivals like South By Southwest and High Sierra. But despite their regional appeal' they're still fighting anonymity in many parts of the country' which has lead to the occasional less than desirable gig.