Features
The PRISM Interviews: Raymond Raposa' Ryne Warner, and PRISM Index Editor Jeffery Bowers
by Julia Marino
|
photography by Julia Marino
July 20, 2010
page 1 of 4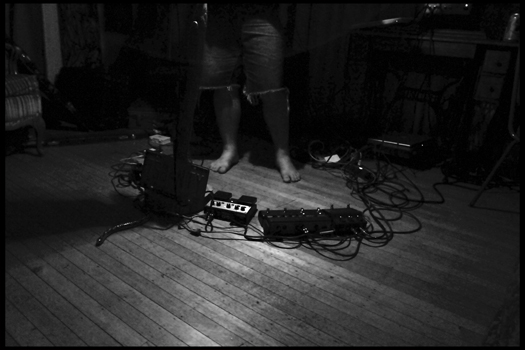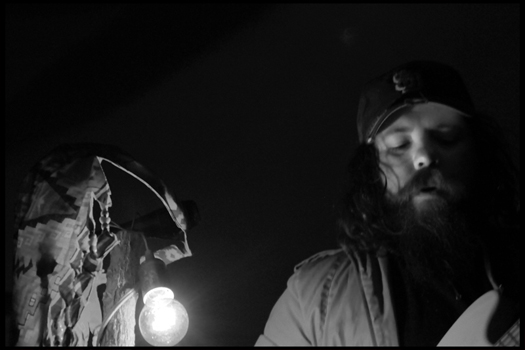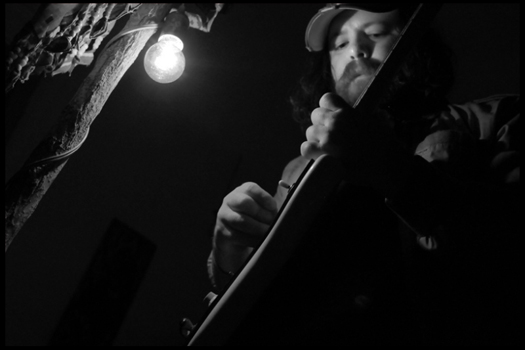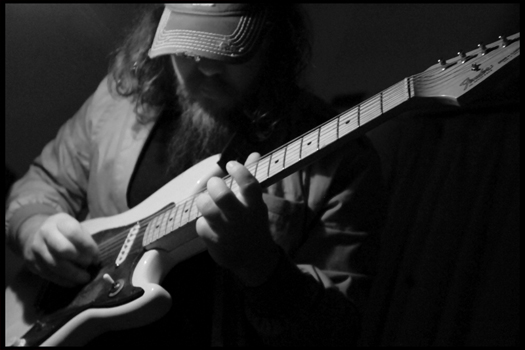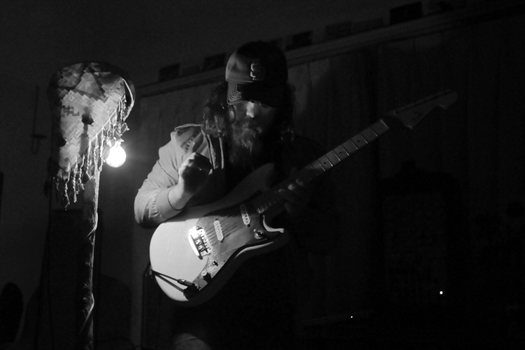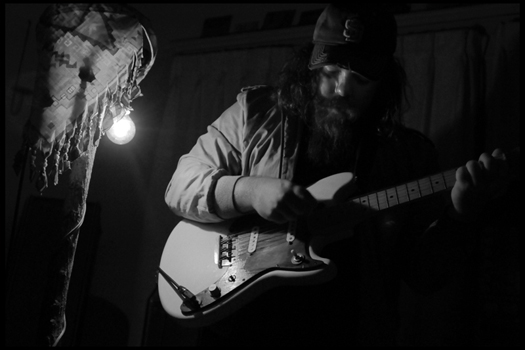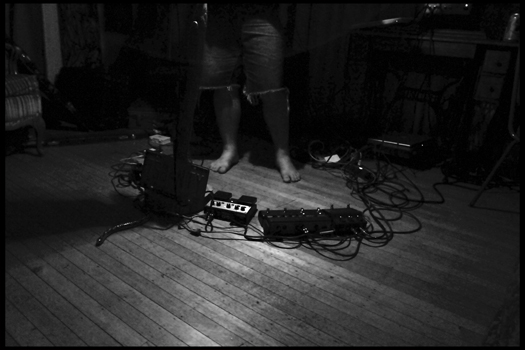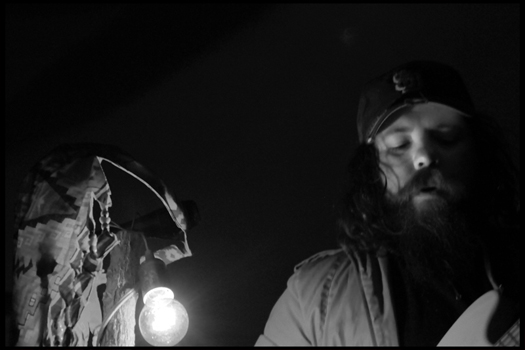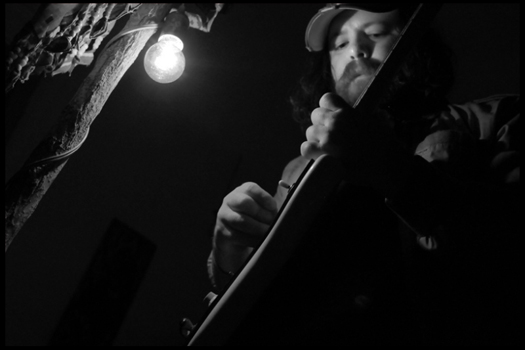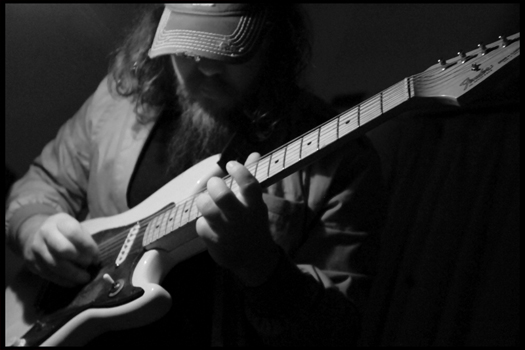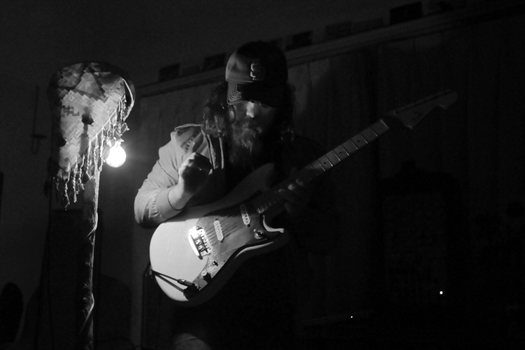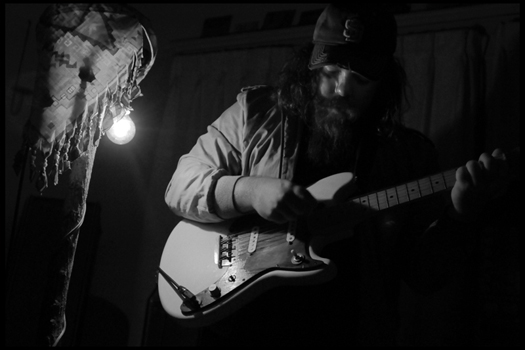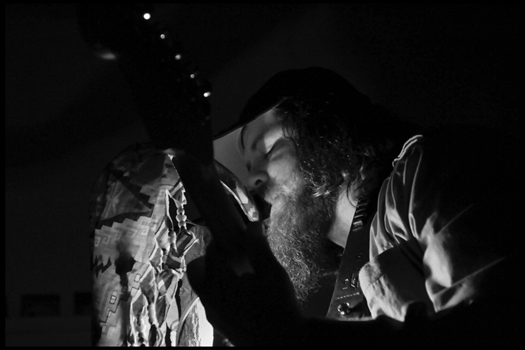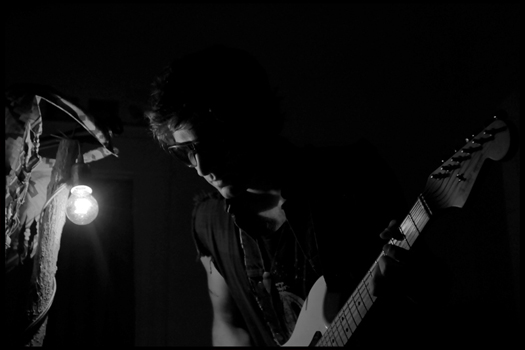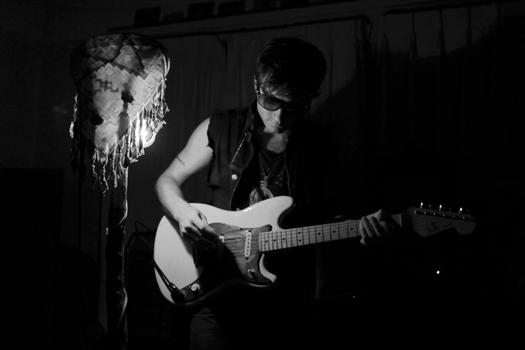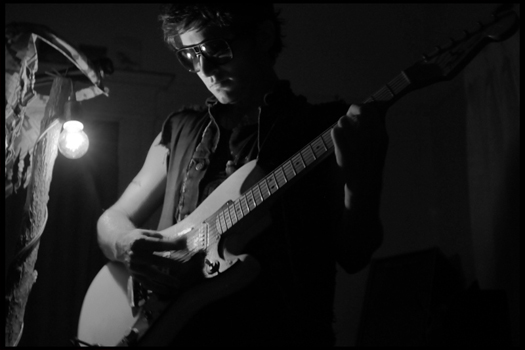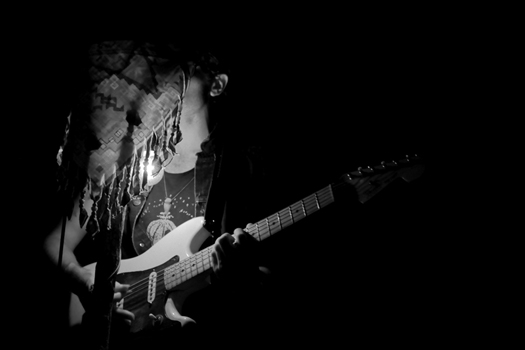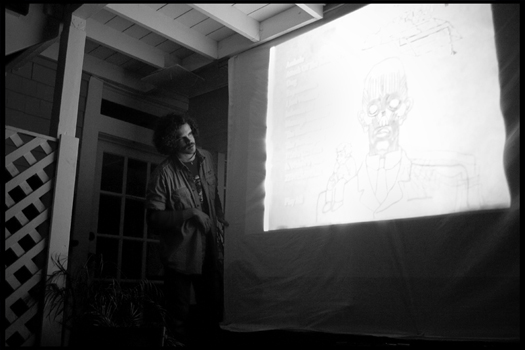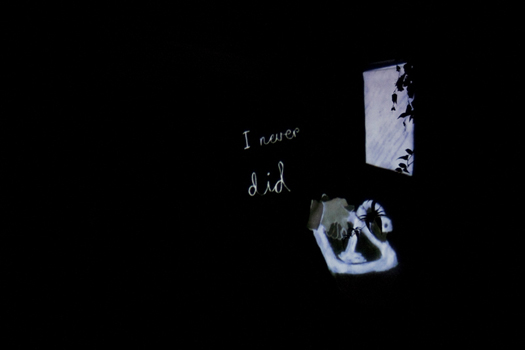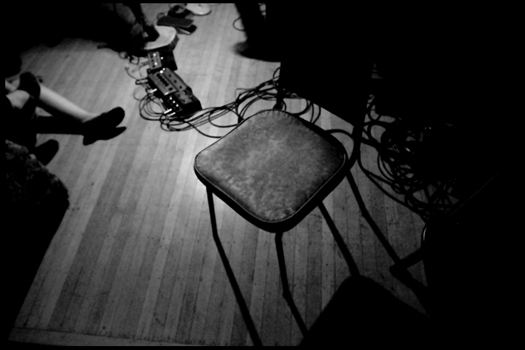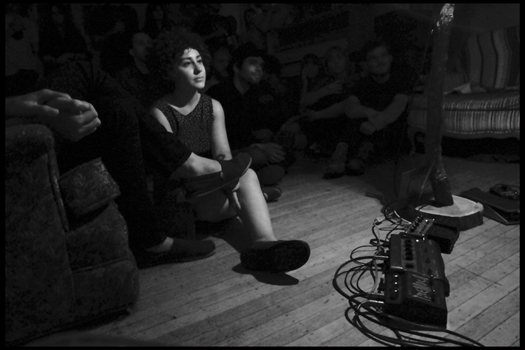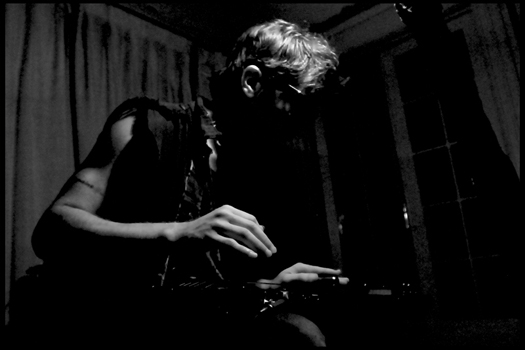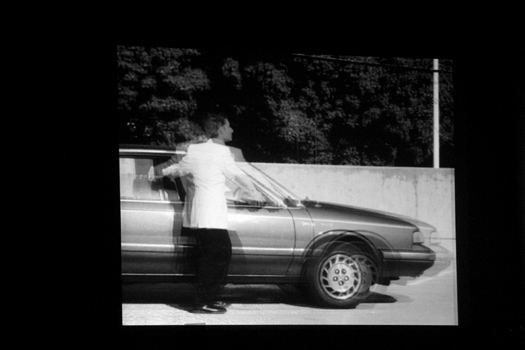 About two weeks after the 2008 presidential election, Raymond Raposa, the musical mind behind Castanets, sent Jeffrey Bowers a poem in a text message. The text was a complete, lyrical tale -- irreverent yet ideal in its transmission, much like Raymond himself, who recently grew his beard long for the summer, and who conducts cool pedals bare foot, adding layers of sound that echo off walls of house shows along the western coast.
"…So you be my getaway car. And I'll steal everything you need."

Initially, Jeffrey was tempted to print a screenshot of the text in his recently released handmade art compilation
PRISM Index
(print / images / sound / movies). But instead, back during the project's digital infancy, Jeffrey asked me to design a typographical page for the poem, which was not as cool of an idea, but I was thrilled to be part of the collaboration. The poem was ultimately placed in white serif type next to a photo of a lonely house by one of PRISM's featured artists Colin McDonald. Since Jeffrey started the project two years ago, more than 50 artists and several designers, writers and art lovers have collaborated in support of Jeffrey's vision of a homegrown, mixed-media environment where musicians present poems and illustrators make films, and filmmakers submit songs.
Raymond
was first introduced to the PRISM when playing in Athens, Ohio where Jeffrey once hosted shows in his house, a DIY music space he called the "Bruce Manor." Like other artists that made their way into PRISM, Jeffrey cold called (or Myspaced) Raymond, asking him to perform at the Manor, and began carefully planting the PRISM seed. Raymond arrived in Athens on Nov. 4, 2008, where Jeffrey had nothing to offer him but homebrewed beer, a bike ride, an appreciative audience and one memorable election night.
A similar story would go for several other independent artists, including musician Ryne Warner of
Ohioan
, also a native of Ohio, who has played with Raymond in Portland, OR and on tours throughout the southwest. Last spring, Ryne and musician
Michael Hurley
, affectionately called "Snock," performed in the Manor living room to the backdrop of Jeffrey and Snock's new film
American Boogie
, an imaginative film documenting his travels through drawings and original songs. Snock became very much tied to PRISM, contributing to both the music and video compilation discs, stamped with Lino Block, with the song "Girl on the Billboard," and his film
The Shortwave Stall
, a shortened, ten minute version of
American Boogie
.
It is now summer 2010, late June, and Jeffrey, Raymond and Ryne are riding up I-5 N, interspersing the drive with breezy ocean highways. Ryne's faded baby-blue Ford is packed with hundreds of limited-edition copies of PRISM Index, stacks of other merchandise such as the hand-screened Zia 7" record released by Ryne's co-op label Infinite Front, as well as collected artifacts and dust from the Arizona desert. The trip initially came about as Ryne's departure from Prescott and return to Portland, OR, where he had once lived for several years, and where his band of 13 musicians await. So what began as a mundane move north, emerged as a multi-media tour featuring Castanet's and Ohioan's respective music and PRISM film screenings, which had them stop for house shows in L.A., San Francisco, Santa Rosa, Davis and Sacramento, before they'd landed in Portland.
I had the chance to reunite with the PRISM trio in Northern California, where we conversed about the spontaneous tour and where PRISM will go next.

JM: How was the idea of for PRISM Index first conceived?

Jeffrey:
When I was interning in San Francisco, I had been doing a lot of handmade, homegrown art projects. Being at McSweeny's, which publishes short fiction, and
Wolphin
, which specializes in short films, I was doing what I wanted to be doing but it was through mainstream channels and bookstores. So I wanted them all to be combined into one place -- something that could create a dialogue between each of the mediums… in sort of a homegrown, homemade atmosphere.
JM: What is the significance of the DIY philosophy behind PRISM Index?

Jeffrey:
Well, for me, I'm just establishing myself in the world of publishing, printing and art, and it was the easiest way to do something and get it out. And second, I like the handmade quality it gives. It's something that you can hold on to and feels special. It's not something you'd just toss away. You can see the effort that is put into it.
JM: Ray, you're involved in PRISM through a variety of mediums -- your Waylon Jennings song, a poem and an interview by Chris Schlarb [fellow Asthmatic Kitty Records composer who you collaborated with on his album Twilight and Ghost Stories]. What fueled the decision to contribute the cover version of Waylon Jennings' "I Can Get Off On You," which appears on the PRISM Index compilation CD?
Raymond: The song, I didn't even send him. A mutual friend of ours sent him a song that my friend Yoni Kifle, who I was on tour with a lot, had recorded. We would set up a tape recorder in hotel rooms, and we'd just do sessions in the morning. I didn't know what song he was sending, or that he had sent it. But it was one of the ones from the motel room in Utah. So, I was pretty hands-off with that. The only thing on the tape was that, and a Dylan song recorded off the radio.
JM: How did the interview with Chris Schlarb come about?

Jeffrey:
I got in contact with Chris a long time ago, because I was interested in Twilight. And I was looking for something more improvisational in terms of something for the CD, but a lot of times that's where I've headed to for an artist that I really admire, for something that I expect or anticipate that they'll be willing to give, like a musician or a song, and Chris just got back to me with a bunch of interviews that he had done with different artists and musicians that had collaborated with him on that record. But it was mostly just a dialogue about the state of art and improvisation and where these artists are heading and what they want to do. It was pretty universal questions for this niche.
JM: Describe the whole collaborative nature of PRISM.

Jeffrey:
The first one is a learning experience, just every single thing about it. I had never sown 500 books before. I had never cut a Lino Block or done a silk screen. I just wanted to do all these things, and I wanted to include a bunch of artists that I love. I offered up a free reign for anyone in terms of what people wanted to submit. My old boss at
Wolphin
Brent Hoff went over and interviewed the Kuchar Brothers about UFOs. A lot of it is a dialogue back and forth between the artists.