Blog

Phosphorescent's Van/Gear/Merch Stolen
by Mike McKinley
July 9, 2010
Bad news -- here's the email from Dead Oceans (Phosphorescent's label):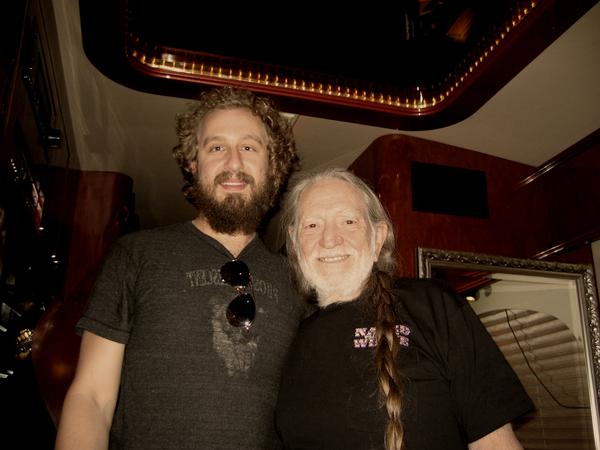 We are devastated to report that Phosphorescent's van was stolen last night following their fantastic show on Pier 54 in New York City. You can read the following message below detailing the incident. Please help out if you can. Good vibes are needed right now.
Last night' after an amazing show at Pier 54 in New York City' Phosphorescent's rental van -along with all of their equipment - was stolen from outside a residence in Greenpoint' Brooklyn. Last night's show was the first night of their scheduled six-weeks US Tour. Among the stolen items was Matthew Houck's custom' irreplaceable 1955 Gibson ES-125 guitar' vintage amplifiers' and a vintage pedal steel with losses totaling around $40'000. If anyone has ANY information or leads on what might have happened' or if you see any of this gear in pawn shops' on Craigslist' etc' please call the NY Police Department' Vector Management' or anyone you think might be able to help recover this gear. The van rental company is insured - they are covered for their van and are therefore not greatly concerned with recovering it. Phosphorescent DOES care though' greatly' about recovering any of this gear possible' and about right now figuring out how to rally up and make this US Tour happen. Anything anyone can do to help would be simply amazing. We have set up a Paypal account for anyone wishing to donate funds to help replace gear - anything helps. We will be sending updates about the upcoming tour dates ASAP. Thanks in advance for any goodwill and assistance and thank you for your support over the years.
Paypal donations can be sent to:
phosphorescentgearfund@gmail.com

Or donate directly via Paypal HERE
Vector Management:
Nick Stern
p: 212.317.2323
nick@vectormgmt.com
Full list of stolen items below:
STOLEN EQUIPMENT LIST:
MOST OF THIS GEAR IS IN STANDARD BLACK ROADCASES
STENCILED WITH "PHOSPHORESCENT" OR "PHOS"
IN LARGE WHITE LETTERS

GUITARS:
1955 Gibson ES-125 Hollow-body Electric
1968 Gibson EB-3 Bass with slotted headstock (brown)
197? Fender Stratocaster - Custom' Blonde wood finish. No brand names or markings anywhere.
197? Emmons Pedal Steel Guitar - Push-Pull Model

AMPS:
1973 Fender Twin Reverb (Silverface) w/ Indian Sun Worshipper Tapestry affixed to grillplate
1978 Music Man 112 RD500 Custom Amp w/ 10? Speaker
SWR Workingman's Bass Amp
196? Fender Deluxe Reverb

PEDALS:
(1) Line 6 DL4 Delay Pedal
(2) Fulltone Full-Drive 2 Mosfet
(1) Electro Harmonix Holy Grail Plus
(1) Electro Harmonix Little Big Muff
(2) Electro Harmonix 80's Memory Man Deluxe
(1) MXR Power Amp Pedal
(2) Boss TU-2 Tuner
(1) MXR Phase 90' CSP-026
(1) Fender Tuning Pedal

DRUMS:
DW "Collectors Series" Drum Kit - Black Matte finish
22? kick drum
16? floor tom
12? rack tom
14? Yamaha' Anton Fig snare drum' with maple hoops
(1) Ludwig boom cymbal stand
(2) yamaha boom cymbal stands
(1) DW9000 Hi-Hat pedal' DW7000 kick pedal
(1) Yamaha' double braced snare stand
(1) Ludwig double braced snare stand
(1) Ludwig drum throne/stool.
(1) 20? Zyldjian Constantinople ride cymbal
(1) 17in Zildjian A Custom crash cymbal
(2) Zildjian Constantinople Hi-Hats (paired)

OTHER ITEMS:
Black Arai Profile Full-face Motorcycle Helmet
Durango Boots - Brown Harness Boots

MERCHANDISE:
Approximately:
150 Vinyl (To WIlle/Pride/Here's to Taking it Easy)
150 CD's (To WIlle/Pride/Here's to Taking it Easy)
100 PHOSPORESCENT "LION" T-shirts